Press Releases for June 2020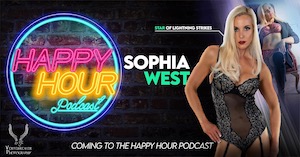 Tuesday, June 30, 2020
SOPHIA WEST
For IMMEDIATE RELEASE
Sophia West Plays Oh the Humanity! with Happy Hour Podcast Crew
(Atlanta, GA) Classy, educated blonde MILF and super slut Sophia West is the guest this week on the brand-new, breakout Happy Hour Podcast, and she plays an amazing game with them called Oh the Humanity!
The Happy Hour Podcast recently launched and is extremely popular. Their third episode guests Sophia…and you've never seen her quite like this before. The HHP crew and Sophia discuss how OnlyFans is a huge moneymaker for the industry, how she got her start and her first scene, what filming a gloryhole is really like, COVID-19 and the adult industry, how yoga helps her flexibility on set, scenes she'd really like to shoot, male talent she loves working with (hint Keiran Lee), her go-to for wine and the joy of Belgian beers, and more. Plus, Sophia answers questions from fans, and they play a rousing game of Oh the Humanity!, Happy Hour Podcast's version Cards Against Humanity.
"I had a great time with the Happy Hour Podcast guys—their show is so much fun! They asked me a lot of questions that I haven't answered in other interviews. You don't want to miss this, and there's tons of place to hear it," says Sophia West.
"Episode 3: It's Going To Be Running Through His Little Mind Forever! – Sophia West" is explicit and available on Soundcloud m.soundcloud.com/ray-chace/its-going-to-be-running-through-his-little-mind-forever-guest-sophia-west, Spotify open.spotify.com/episode/3mlDRC01vKM6np66O6Q3Zw?si=u_rLmSlITIikkLHOIWhxjQ, iHeart Radio iheart.com/podcast/269-the-happy-hour-podcast-65037576/?cmp=web_share, Stitcher stitcher.com/s?eid=73537932, and Buzzsprout buzzsprout.com/1046149/4336913-its-going-to-be-running-through-his-little-mind-forever-sophia-west.
Book Sophia West through exclusively through East Coast Talents. Get her on your set by contacting John O'Byrne of East Coast Talents via phone 732.859.2414 or email bookings@eastcoasttalents.com. View her agency photos at eastcoasttalents.com/site/talent/sophia-west.
To interview Sophia for your site, publication, or show, contact Erika Icon of The Rub PR at erika@therubpr.com.
About SOPHIA WEST
Hazel-eyed blonde MILF Sophia West entered the industry in 2019, and in 2020, she's hoping for the sweet smell of success. The classy, educated super slut is always up for anything. She got her start in adult by contacting MissaX, and Sophia's first scene was for her taboo playhouse. In 2020, she was featured in Hustler Magazine's series "So You Wanna Be a Cam Star" and was interviewed by The Daily Beast. Before entering the adult arena, Sophia was a lingerie and lifestyle model. When she's not filming, you will find Sophia at the gym maintaining her perfect physique, trotting the globe, and/or enjoying fine dining.
Keep up with everything in Sophia's world by following her on Twitter @thesophiawest and Instagram @the_sophia_west. Check out her official website at misssophiawest.com. Join her OnlyFans onlyfans.com/sophiawest to keep up with all her adventures on and off set. Subscribe to her Premium Snap and FanCentro and see a different side of her at fancentro.com/sophiaworld. Buy her clips on ManyVids, be part of her MV Crush Club, and more at manyvids.com/Profile/1001070570/SophiaWest. Search her on Pornhub, watch her free videos and "like" them, and offer her a tip as thanks at pornhub.com/pornstar/sophia-west. Watch her live on cam on Chaturbate chaturbate.com/sophie__west and check her social media for days and times.
KEYWORDS
Sophia West, Happy Hour Podcast, Oh the Humanity!, Cards Against Humanity, OnlyFans, COVID-19, Keiran Lee, Belgian beers, male talent, yoga, scenes, gloryhole, flexibility, adult industry, fans