Press Releases for May 2020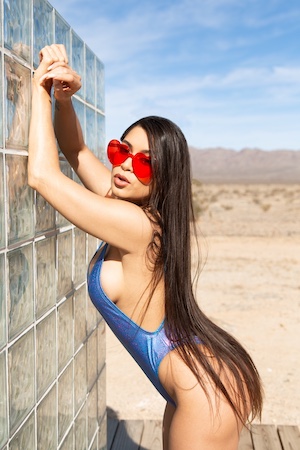 Tuesday, May 12, 2020
MEANA WOLF
For IMMEDIATE RELEASE
4K Now Available on Meana Wolf's Official Site
(Vancouver, BC) Stunning, insatiable immersive roleplay artist and adult model Meana Wolf's website meanawolf.com just got even better—Meana is now at the forefront of shooting digital video with her content now being shot in 4K.
Meana always wants to treat her members to the best content possible, and shooting in 4K will give them even more detail than they've seen on her site before. Although she's always shot in HD, her new 4k scenes will look even better with quadrupled resolution, higher contrast, and dynamic color. Although 4K isn't the industry standard yet, it will be, and this sets Meana at the forefront of the tech standard of the future.
"I want only the BEST for my members, and that means the highest quality product, which includes vivid colors and the sharpest image possible," says Meana Wolf. "Now, our content will be on par with the higher-end adult brands, as well as mainstream sites like Netflix. I'm really proud that Ultra-HD 4K is a feature that we can now offer our members."
Meana's first 4K video on her site is "Quarantine Cuckold". She's stuck at home with her new roommate, and her boyfriend knows she's cheating. But one night, Meana "accidentally" leaves her Skype on and fucks her roommate as he watches every second of it, not caring that it hurts him. Members can watch "Quarantine Cuckold" for free at meanawolf.com/scenes/Quarantine-Cuckold_vids.html. Not a member? Join now or buy the scene à la carte.
Interview Meana Wolf for your site, publication, or show by contacting Erika Icon of The Rub PR at erika@therubpr.com.
About MEANA WOLF
Stunning, insatiable immersive roleplay artist and adult model Meana Wolf will make you do bad things…very bad things. It's no surprise that the exotic Canadian's name personifies her naturally devious and animalistic sides.
Her brain is her commodity, and as a performer, she takes you to a place where fantasy and reality meet, connecting with every part of you. Before entering the adult arena, Meana dove into creative endeavors, being heavily active behind the scenes in theatre and attending music school in college. Her creative edge is the key ingredient in her unique taboo, cuckolding, fetish, and horror clips. Pornhub gave her some stellar noms in the first-ever Pornhub Awards in 2018—she scored BackDoor Beauty/Top Anal Performer. In 2019, she nabbed multiple noms from AVN and XBIZ for her scenes and clips, as well as a second nomination from Pornhub for Best Modelhub Studio. Meana has also graced the pages and cover of XBIZ's Clip World Magazine, and was featured in Hustler's online Sex Boot Camp series.
With almost five years in the industry, Meana's fans around the world have taken note and were overjoyed with the launch of her official site meanawolf.com in late 2019. Her highly original clips can also be found on Many Vids manyvids.com/Profile/1001137086/Meana-Wolf/Store/Videos, iWantClips iwantclips.com/store/3309/Meana-Wolf, Clips4Sale clips4sale.com/81629, and Modelhub modelhub.com/meana-wolf. Check out her free videos, "like" them, and subscribe to her Official Pornhub pornhub.com/pornstar/meana-wolf. Keep up with everything in her world by following her on social media at Twitter and Instagram at @meanathewolf.
KEYWORDS
Meana Wolf, 4K, Ultra-HD 4K, Netflix, digital video, resolution, contrast, video, members, content, official site