Press Releases for May 2020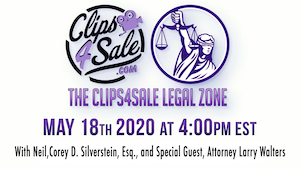 Wednesday, May 13, 2020
CLIPS4SALE
For IMMEDIATE RELEASE
The Clips4Sale Legal Zone Returns on Monday with a Full Plate of Topics
(Tampa, FL) This Monday, May 18th, at 4 pm EST/1 pm PST, get ready for another Clips4Sale Legal Zone covering the topics everyone wants to know about.
Hosted by Clips4Sale founder and leader Neil and industry premiere IT attorney Corey D. Silverstein with guest attorney Lawrence Walters, the May edition of the Clips4Sale Legal Zone will focus on SBA loans for COVID-19 and the adult industry. The discussion will include two injunctions against the SBA in cases brought by community businesses.
There will also be an update on AB 2389, California's controversial Sex Worker Permit bill, which would prohibit adult entertainers and performers from working in adult or producing content until they receive a certificate of training completion. AB 2389 seems to be dead for now due to COVID-19, and Corey has some interesting thoughts on the bill's future.
And the last two topics for discussion are important ones—the use of drugs and/or alcohol on set before and after shoots and during live broadcasts and the EARN IT Act (aka Eliminating Abusive and Rampant Neglect of Interactive Technologies Act). Both could have huge repercussions.
The webinar will run 60-minutes, and there will be a live Q&A throughout, so have your questions ready.
"We have a ton of topics to discuss in this edition, and you don't want to miss it," says Clips4Sale's Neil. "We're here to help studios and models navigate through some of the legal issues they might be having and give them the answers they need."
Everyone is invited to attend, whether you're a Clips4Sale studio or not. Find details to join via Zoom and links to helpful information at blog.clips4sale.com/b/clips4sale-legal-zone-series-12. If you can't attend, watch the full video later at blog.clips4sale.com/b/category/clips4sale-legal-zone.
Not already a producer or model on Clips4Sale? Sign up now. Clips4Sale is the best and first downloadable video clips site with the most traffic. Plus, they're only clip site that prides itself on experience, trust, integrity, fairness, and diversity. Get started at clips4sale.com/clips/page/openastudio.
Contact attorney Corey D. Silverstein about your legal matter or to schedule an appointment for a free consultation through his website at myadultattorney.com/contact.
All media inquiries about Clips4Sale and their models/producers should be directed to Erika Icon of The Rub PR at Media@clips4sale.com.
About CLIPS4SALE
Clips4Sale is the original and still the #1 downloadable video clips site that offers the most mainstream, kink, and fetish content on the market. Clips4Sale is the most diverse clip site with the largest selection of high-resolution media, and thousands of clips are added daily. Producers and sellers get some of the highest payouts due to an incredibly high traffic volume, which includes over 1.3 million daily page views and 20 million fetish-hungry visitors each month. All content is extremely secure on their servers and easy to upload using with their uploading system, plus they have the highest bandwidth of any clips site. Clips4Sale also offers easily accessible stats and sales info, free advertising banners for studios on their home page, and 24/7 technical support for studios and sellers, in addition to stellar 24/7 customer support.
Images4Sale, Videos4Sale, and streaming video membership site C4SLive are also part of the Clips4Sale online multi-media entertainment experience. For more information about Clips4Sale, go to clips4sale.com. Keep up with everything C4S by following them on Twitter at @clips4sale and @cs4updates.
KEYWORDS
Clips4Sale, Legal Zone, Neil, Corey D. Silverstein, Larry Walters, COVID-19, AB 2389, EARN IT Act, SBA loans, Zoom, adult industry, webinar, shoots, live broadcasts, studios, models, community businesses