Press Releases for November 2020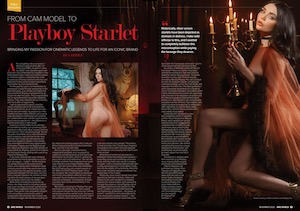 Sunday, November 1, 2020
CATJIRA
For IMMEDIATE RELEASE
Catjira Pens XBIZ Article Chronicling Her Journey from Cam Model to Playboy Starlet
(Las Vegas, NV) Multi-award-winning cosplay cam model and content creator Catjira has had a stellar week with her third Playboy Plus photos set of 2020 premiering and taking over the Playboy Plus' Instagram account. The article she penned for XBIZ about her journey from cam model to Playboy Starlet, and the creativity and inspiration behind the shoot is now available.
"From Cam Model to Playboy Starlet: Bringing My Passion for Cinematic Legends to Life for an Iconic Brand" is the first article in the November issue of XBIZ World. Catjira details how 2020 started with a car crash but ended up being one of the biggest years of her career. It recounts key events, including meeting Playboy Executive Holly Lynn Rupert after a panel at XBIZ Los Angeles, her first shoot Playboy Plus shoot, and her legendary Playboy Plus photoset yet, "Toil & Trouble," that debuted last week.
Catjira goes into detail about actresses Hedy Lemarr and Tippi Hedren and filmmaker Anna Biller being a massive inspiration to her for "Toil & Trouble," as well as Hammer Horror and Noir Film. The enchanting set took many weeks to prepare for and encompassed finding the perfect décor, props, clothing, and lighting. She stepped into the roles of creative genius and model, teaming up with photographer Marcos Rivera and makeup artist Laura Elise Conteras. Also, in the piece, Catjira talks about the power of women, which can be erotic and scary. Two stunning photos from her Playboy Plus set with Catjira in vintage lingerie and stiletto heels are also featured in the piece.
"I wasn't expecting to be the very first article of the new November issue. I also can't believe that I'm in this issue—it's seriously one of XBIZ's best with all of the talent and performers in it and all the incredible articles written by them. I feel almost guilty relishing in my success this year. This is the first time in my career that I'm referred to as more than just a cam model. I feel included and incredibly supported. XBIZ has done nothing but support my endeavors since I've started in adult, and I'm forever grateful. I'm very excited to be gaining more porn and creative fans and can't wait to nerd out with them over old movies during the holidays," says Catjira.
See "From Cam Model to Playboy Starlet: Bringing My Passion for Cinematic Legends to Life for an Iconic Brand" on Pages 8 and 9 in the online xbiz.com/pub/xbizworld/2020-11 and print editions of XBIZ World.
Members of Playboy Plus can access "Toil & Trouble," as well as her previous sets "Catjira in Living Image" and "Enchanting Energy," at playboyplus.com.
To interview Catjira for your site, publication, or show, contact Erika Icon of The Rub PR at erika@therubpr.com.
About CATJIRA
As a self-created character with an influence from Jon Norman's Gor novels, Catjira was born. Five years later, she's at the top of her game, a multi-award winner, and one of the most recognized performers in the industry and beyond. The cosplaying cam model, content creator, and one of the hottest girls on the Internet is known for her self-designed costumes, highly creative live shows, and adult parodies.
2020 marked Catjira's debut as a Playboy muse on Playboy Plus with three incredible sets in less than six months.She's also scored the covers and been featured in AVN Cam Star and XBIZ Cam mags, as well as graced the pages of ALT Star and CamLife magazines. She won Cosplay POTY three years in a row from the Cammy Awards, scored Best Nerd two years in a row from the AltPorn Awards, was the first model to win Best Cosplay Cam Model from the XBIZ Cam Awards and AVN Awards Favorite Cosplay Cammer, as well as being honored as Web Star of the Year from XBIZ Awards, Best New Cam Model from AltPorn Awards, and Best Cosplay Cam Model from the YNOT Awards. Cat has also received countless nominations from the XBIZ, AVN, and NightMoves Awards.
When she's not filming, on cam, or glamming it up on red carpets, Cat is building her expansive collection of vintage Playboy magazines and comic books, gaming on Twitch twitch.tv/catjira, watching horror movies, hanging out with her rescue Pitbull Bisquick, and enjoying nature and the great outdoors. Keep up with everything in the Catjira empire by following her on her main Twitter @CatjiraTV, NSFW Twitter @catjiraNSFW, and Instagram at @catsgotback. Watch her infamous cam shows on Chaturbate catjiracams.com. Join her OnlyFans onlyfans.com/catjira and get a sneak peek at onlyfans.com/catjiratv. Buy her videos on ManyVids catjira.manyvids.com and Modelhub modelhub.com/catjira/videos. And follow her on Pornhub and make sure to like her free videos on Pornhub pornhub.com/model/catjira.
KEYWORDS
Catjira, Playboy Plus, Marcos Rivera, Laura Elise Conteras, Hedy Lemarr, Tippi Hedren, Anna Biller, Hammer Horror, Noir Film, XBIZ World, Instagram, sets, props, clothing, sets, lighting