Press Releases for February 2021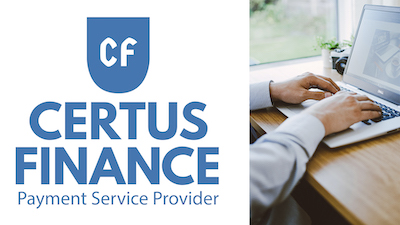 Wednesday, February 10, 2021
CERTUS FINANCE
For IMMEDIATE RELEASE
Certus Finance CEO/Founder Set to Educate interNEXT Attendees on Billing Solutions
(Saint Petersburgh, Russia) Today is the first day of the internationally renowned tech conference, interNEXT Expo, and Certus Finance is a major part of the event that features networking, seminars, workshops, and parties.
This year, interNEXT has gone virtual. Level Up 21, The Remote Experience is a two-day event that starts today. Not only is Certus Finance a Platinum Sponsor of the event, but founder/CEO Sergey Kazlouski will be conducting his own Masterclass, Billing Solutions for New Markets. Taking place on the Fintech Stage at 8:30am PST/11:30am EST, the Masterclass will educate attendees on starting their business in India, Russia, and other T3 countries, being able to make payments to models in Australia, Colombia, and Russia, and how Certus Finance is the optimal payment solution to help you achieve these goals. To attend Sergey's Masterclass and other interNEXT events for free, register at eventbrite.com/e/internext21-tickets-129716255813. Find a list of all the panels at internext-expo.com/schedule.
On Thursday, February 11th, the GFY social events kick into full gear with the GFY Awards at 2pmPST/5pm EST. Certus Finance is sponsoring the entire event on the Main Stage and they're also a nominee for Best Billing Provider. Certus is also sponsoring The Winner's Circle at the GFY Awards After Party in the GFE Hotel, which is by invite only. More details about the GFY Awards can be found at gfyawards.com.
"interNEXT is a significant event and we're proud to be a sponsor of the tradeshow and awards show and after-party. We were also overjoyed that we were nominated for Best Billing Provider. It's always our goal to be the best at everything we do. Even though we're relatively new to adult, it's amazing to already be recognized for what we do," says founder/CEO Sergey Kazlouski.
All media inquiries about Certus Finance should be directed to Erika Icon of The Rub PR at erika@therubpr.com.
About CERTUS FINANCE
Certus Finance is a fintech company that has worked in the mainstream for years but is new to the adult arena. They're a Payment Service Provider in e-commerce industry with cooperative partners worldwide. Certus holds licenses in UK, Poland, and Estonia that provide financial services, and have offices located in Europe, Russia, Belarus, and India and branches in other worldwide countries.
The Certus Team has over 20 years of experience in online payment processing in various niches, and over the last five years, they've expanded into trading, gambling, and online gaming. Now Certus is offering their services and expertise in the adult market. Their core PSP activity is providing online stores and sites the ability to accept credit cards (Visa and Mastercard) from customers to pay for goods and services. They facilitate the communication between banks, merchants and software providers. Their relationships with banks in Russia, CIS countries, Europe, and more allows merchants to get additional sales in new regions they might not have perused before and accept payments there, allowing global players and start-ups to expand their online presence.
Find out more about what Certus Finance can do for you and your business by checking out their website certus.finance. Follow them on Twitter at @CertusF and Instagram at @certusfinance.
KEYWORDS
Certus Finance, Sergey Kazlouski, interNext Expo, Platinum Sponsor, GFY Awards, The Winner's Circle, GFY After Party, Masterclass, Russia, T3 countries, Australia, Colombia, Russia, Best Billing Provider, networking, seminars, workshops, parties, virtual, nomination, payment solution