Press Releases for April 2021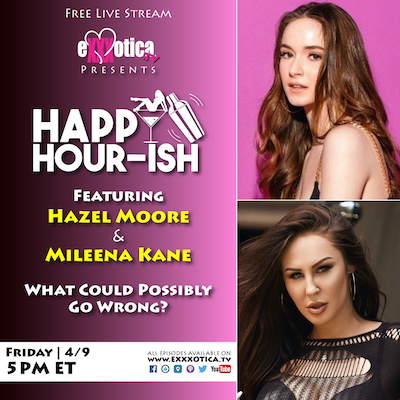 Wednesday, April 7, 2021
MILEENA KANE
For IMMEDIATE RELEASE
Mileena Kane Invites Her Fans to Kick Off the Weekend with a Live Appearance on EXXXOTICA's Happy Hour-ish
(Hollywood, CA) This Friday, April 9th, petite raven-haired sultry rebellious vixen with a voracious sex drive and self-described "camaholic", Mileena Kane is set to make her first appearance on EXXXOTICA's live broadcast Happy Hour-ish.
Mileena is ready to kick the weekend off on Friday with her first appearance on EXXXOTICA's live weekly live show Happy Hour-ish. Hundreds of thousands of fans worldwide watch the live show and reruns that feature adult stars, cam models, sex educators, and more. With the tagline of "What Could Possibly Go Wrong?" hosts J and Dan and their guests talk about anything and everything from adult to sports. Mileena and Hazel Moore are this week's guests. Mileena will be ready to entertain fans around the world with her charisma and will be discussing her recent Cammy Awards nomination for Best Butt and how fans can help her win, her standing room only shows on CamSoda, and more.
"This is going to be an incredible show, and you definitely don't want to miss it! Chilling with Hazel, the hosts, and me with an adult beverage is the ultimate way to start your weekend. It's probably the most fun you can have on a Friday. Plus, you can still catch me on cam after," says Mileena Kane.
Watch EXXXOTICA's Happy Hour-ish is free to watch and available on Twitter at @EXXXOTICA, Periscope pscp.tv/EXXXOTICAtv/1lPKqVmnLXWGb, YouTube youtube.com/channel/UCcCXi2aEQv6t3ZtC0jkTKKg, Facebook facebook.com/CelebrateSexy and of course, EXXXOTICA.tv. The show will be re-run throughout the weekend and then permanently available at EXXXOTICA.tv.
To interview Mileena Kane for your site, publication, or show, contact Erika Icon of The Rub PR at erika@therubpr.com.
About MILEENA KANE
Mileena is a self-described "camaholic" known for her long streams. The petite raven-haired sultry rebellious vixen with a voracious sex drive who's fluent in sarcasm and known for her twerking. She
built her fan base from her solo shows with her sex toys, as well as girl/girl and a variety of other content. Known as the Queen of CamSoda, she's made the platform her home base and is one of their most popular models.
When Mileena isn't live on cam, she indulges in anything Star Wars, Harry Potter, vampires, fantasy, and adventure, and enjoys Emo Rap, especially Lil' Peep. She also has a passion for historic homes. But one of Mileena's favorite things is her F350 Platinum sponsored by CamSoda. The colossal truck has been featured at the Forgiato Wheels booth at the Specialty Equipment Market Association (SEMA) in Las Vegas, and Mileena has modeled them and other companies at the premiere Las Vegas tradeshow.
Mileena has been interviewed by Instinct Mag and the New York Times. She's scored nominations from the Awards for Favorite Cam Girl, Pornhub for Favorite Cam Performer, Best Butt from the Cammy Awards, and Hottest Cam Girls of 2021 from Best Cam Girl Awards.
Make sure to check out her shows on CamSoda camsoda.com/mileenakane where you can also buy her posters, videos and more, and subscribe to her Premium and VIP Snapchat that has received rave reviews from The Porn Geek. Subscribe to her OnlyFans onlyfans.com/mileenakane for the best exclusive content. Buy her clips on ManyVids manyvids.com/Profile/622329/Mileena-Kane and Modelhub modelhub.com/mileena-kane/videos. "Like" her videos on Pornhub pornhub.com/model/mileena-kane. And keep up with everything in her world via social media on her Twitter @Mileenakane, Instagram @mileena_kane & @shewantsthedieselm, and Reddit reddit.com/r/MileenaKane.
KEYWORDS
Mileena Kane, EXXXOTICA, Happy Hour-ish, Cammy Awards, Best Butt, CamSoda, Hazel Moore, Twitter, Periscope, Facebook, YouTube, adults, sports, live show, reruns, fans, adult stars, cam models, sex educators