Press Releases for April 2021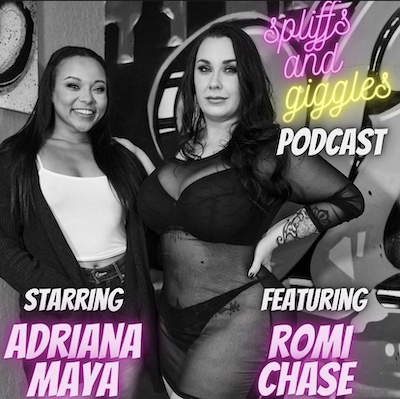 Monday, April 12, 2021
ROMI CHASE
For IMMEDIATE RELEASE
Romi Chase Guests on Adriana Maya's Spliffs & Giggles Podcast
(Miami, FL) Adult content creator, plus-size model, and social media influencer Romi Chase is the latest guest on Adriana Maya's Spliffs & Giggles podcast, and it's a must-see.
Sponsored by Red Eye District, Adriana Maya's Spliffs & Giggles podcast is highly entertaining and educational if you want to learn about the industry and/or cannabis-based products. Host Adriana and Romi chat about her strong work ethic, marketing yourself as luxury, the importance of posting every day to her premium social media, and putting a lot of work/production into her videos, photos, and customs. Romi also talks about making solo, softcore girl/girl, and fetish content like face sitting and even gives a little sample of her female domination. She gives a peek into her workshops for aspiring creators and her official website to find everything Romi Chase at romichase.com. But the best part of the interview is Romi's story about her first trip to Walmart (hint—it was wild).
"This was one of my favorite interviews to date—we had so much fun! I got to impart a lot of knowledge and partake in some excellent cannabis. I haven't laughed that much in a long time. If you're a fan or a model wanting to learn more about what I do, definitely check it out," says Romi Chase.
Watch Ariana and Romi smoking a blunt, chilling, and chatting on "Spliffs & Giggles Podcast Episode 6 Featuring Social Media Superstar Romi Chase" at youtube.com/watch?v=Hy1t9d5VLj4.
To book Romi Chase for upcoming projects, email romichasebooking@gmail.com.
To interview Romi Chase for your site, publication, or show, contact Erika Icon of The Rub PR at erika@therubpr.com.
About ROMI CHASE
Adult content creator, plus-size model, and social media influencer Romi Chase is known for her tease and seduction solo and girl/girl content. Originally from Poland, the body-positive Florida-based entrepreneur runs her own production company and offers workshops to help other female performers to succeed. Before delving into fashion, glamour/boudoir, cosplay, and fetish shoots and launching her career on Instagram, Romi was a high school teacher and earned a Master's in Linguistics, Translation, and Teaching Specialization.
2021 brought her first industry nominations from the Inked Awards for BBW of the Year, Social Media Queen, and Best Tits. Romi has appeared in Woman's Crush Worldwide (WCW), 504 Dymes, and Noodle magazines. Look for her to appear in a future issue of Straight STUNTIN and B.AD.D. magazines. She's also been featured in solo interviews on mainstream sites Medium and OZY.
Keep up with everything in Romi's universe by following her on Twitter, Instagram, and TikTok at @romi_chase. Subscribe to her OnlyFans onlyfans.com/romichase for exclusive content, and it's the best place to interact with her, buy customs, and more. Talk dirty to Romi on SextPanther sextpanther.com/romi-chase. Check out her official fan website romichase.com to purchase her photos, videos, and clothes, get links, and keep up with all her projects. Become a member of her Patreon patreon.com/romi_chase to support her and indulge in SFW and NSFW exclusive content, blog posts, and more. Buy a shoutout at Shoutout Express at shoutoutexpress.com/romi_chase. And subscribe to her Verified Pornhub account pornhub.com/model/romichase and like her videos.
KEYWORDS
Romi Chase, Ariana Maya, Spliffs & Giggles, YouTube, Red Eye District, Walmart, premium social media, luxury, marketing, videos, photos, customs, workshops, aspiring creators, official website, cannabis, solo, softcore girl/girl, fetish, female domination