Press Releases for April 2021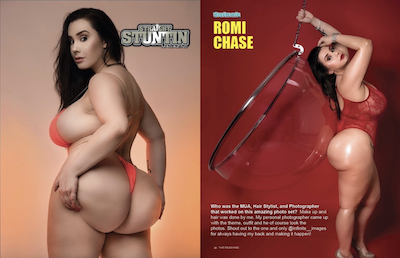 Monday, April 26, 2021
ROMI CHASE
For IMMEDIATE RELEASE
Romi Chase Scores Layouts in That Splash & Straight STUNTIN Mags
(Miami, FL) Adult content creator, plus-size model, and social media influencer Romi Chase has scored layouts in the current issues of That Splash and Straight STUNTIN magazines that are available for purchase now.
Romi is featured in the April/May 2021 issue of That Splash. Known for spotlighting the industry's elite and stars of tomorrow, the current issue has Bunny Ranks on the cover. Romi has scored a five-page pictorial that starts on Page 20 and features exclusive photos and an up-close-and-personal interview. Shot by Infinite Images, the photos feature her oiled up in red lingerie that's see-through in all the right places, star pasties, and killer gold stacked heels. The interview is a quick read that asks her about her personality, in which she describes herself as a "peaceful hustler," what 2021 holds for her, advice to new models on the scene, magazines she's been published in, and more. Buy the print edition of That Splash for $18 and get a digital copy for free or just purchase the digital version for $5 at magcloud.com/browse/issue/1973329. While you're there, take a peek at the current issue.
Romi is also gracing pages of the April issue of DJ Kay Slay's Straight STUNTIN that's all about hip hop and thick models, and alternative covers feature Inked Up Baddie/Knick Gunz and Rosa Acosta. She's looking stunning in an orange lingerie one piece that shows off all her curves in photos also captured by Infinite Images. Buy the magazine online on the Straight STUNTIN site at straightstuntinmagazine.com/store for $13.99 plus shipping or on newsstands.
"It's amazing to be featured in two magazines of this caliber in the same month. Both publications are definitely worth picking up and adding to your collection. When I start doing appearances again, I will sign the copies of both magazines that my fans buy for free, as an extra added incentive," says Romi Chase.
Another place you will find Romi is the on-demand episode of her recent live appearance on East Coast comedian Chrissie Mayr's sex, dating, and relationships show Wet Spot. Episode 88 compoundmedia.com/shows/wet-spot/17040 features Romi talking about DMX, strange OnlyFans requests, and more. You must be a Compound Media subscriber to watch and can watch the single episode for less than $3. Hit the "subscribe" button to find out more.
To book Romi Chase for upcoming projects, email romichasebooking@gmail.com.
To interview Romi Chase for your site, publication, or show, contact Erika Icon of The Rub PR at erika@therubpr.com.
About ROMI CHASE
Adult content creator, plus-size model, and social media influencer Romi Chase is known for her tease and seduction solo and girl/girl content. Originally from Poland, the body-positive Florida-based entrepreneur runs her own production company and offers workshops to help other female performers to succeed. Before delving into fashion, glamour/boudoir, cosplay, and fetish shoots and launching her career on Instagram, Romi was a high school teacher and earned a Master's in Linguistics, Translation, and Teaching Specialization.
2021 brought her first industry nominations from the Inked Awards for BBW of the Year, Social Media Queen, and Best Tits. Romi has appeared in Woman's Crush Worldwide (WCW), 504 Dymes, and Noodle, Straight STUNTIN, and Splash magazines. She's also been featured in solo interviews on mainstream sites Medium and OZY.
Keep up with everything in Romi's universe by following her on Twitter, Instagram, and TikTok at @romi_chase. Subscribe to her OnlyFans onlyfans.com/romichase for exclusive content, and it's the best place to interact with her, buy customs, and more. Talk dirty to Romi on SextPanther sextpanther.com/romi-chase. Check out her official fan website romichase.com to purchase her photos, videos, and clothes, get links, and keep up with all her projects. Become a member of her Patreon patreon.com/romi_chase to support her and indulge in SFW and NSFW exclusive content, blog posts, and more. Buy a shoutout at Shoutout Express at shoutoutexpress.com/romi_chase. And subscribe to her Verified Pornhub account pornhub.com/model/romichase and like her videos.
KEYWORDS
Romi Chase, That Splash, Infinite Images, Bunny Ranks, DJ Kay Slay, Straight STUNTIN, Inked Up Baddie, Knick Gunz, Rosa Acosta, Chrissie Mayr, Wet Spot, Compound Media, DMX, OnlyFans, lingerie, heels, pasties, photos, interview, elite, stars of tomorrow, hip hop, thick girls, print, digital, magazine, newsstands, podcast, sex, dating, relationships