Press Releases for April 2021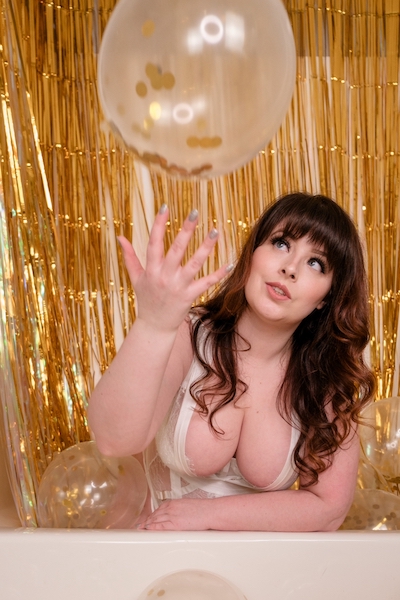 Thursday, April 29, 2021
BEA YORK
For IMMEDIATE RELEASE
Bea York Honored with 1st XBIZ Cam Awards Nom of Her Career
(Hollywood, CA) Curvy, nerdy, girl next door smut creator Bea York was more than excited when the nominees for the 2021 XBIZ Cam Awards were announced, and she made the coveted list.
Bea has been busy over the past year honing her craft and thinking of more ways to excite her fans and come up with creative ideas for her clips, and it's paid off. She's been honored with her first XBIZ Cam Awards nomination, and it's for Best Female Clip Artist. Nominations and winning are solely decided by fan and industry voting, and both came together to score a nomination for Bea.
Voting for the XBIZ Cam Awards is now open and closes May 26th at 11:59pm PDT/2:59am EDT. The competition is fierce, so Bea is calling on her fans and industry again to #rockthevote for her as much as possible. You can vote once every 24 hours. Go to camawards.xbiz.com/voting/XCA21-10.php, look for her photo & click on it, then click "submit vote." Get Bea extra votes by clicking on the "Tweet It!" button.
"If you really enjoy my clips on OnlyFans, ManyVids, iWantClips, and Clips4Sale, please take a moment out of your busy day to vote for me and as often as you can. I'm up against some amazing models, so every vote definitely counts," says Bea York.
Known as the biggest night for independent artists, the 2021 XBIZ Cam Awards will be virtual again this year and broadcasted exclusively on XBIZ.tv. The ceremony will take place on Thursday, May 27th. For a list of all the nominees and more details, visit xbiz.com/news/258767/2021-xbiz-cam-awards-nominees-announced-voting-now-live.
To interview Bea York for your site, publication, or show, contact Erika Icon of The Rub PR at erika@therubpr.com.
About BEA YORK
Curvy, nerdy, girl next door smut creator Bea York is known for her award-nominated bodacious T&A, infectious laugh, sense of humor, and style with her eclectic clothing and shoe collection. Her fans around the world enjoy her nude photos and over 400 homemade solo and girl/girl adult clips and have helped her become the star that she is.
Bea scored the cover and a feature in the Karma edition of MV Mag in 2019. She's also received many stellar nominations, including Best Female Clip Artist from the XBIZ Cam Awards, Favorite Indie Clip Star and Most Spectacular Boobs from the AVN Awards, and two from the Pornhub Awards recognizing her infamous physique for Best Chest and Fan Vote Nicest Tits.
When she isn't filming content, you will find her enjoying a craft beer, reading a Tom Clancy book or fantasy novels, shopping, or indulging in Sci-Fi like Star Wars and Star Trek. Keep up with everything in her universe by following her on Twitter and Instagram at @ubeayork. Find out about all her and her content in one place at beayork.com. Subscribe to her OnlyFans at onlyfans.com/beayork. Buy her clips on ManyVids beayork.manyvids.com, iWantClips iwantclips.com/store/790150/Bea-York, Clips4Sale clips4sale.com/studio/138013/clips-by-bea and Modelhub modelhub.com/beayork. Check out her content for free and thank her with "likes" on Pornhub pornhub.com/model/beayork.
KEYWORDS
Bea York, XBIZ Cam Awards, Best Female Clip Artist, OnlyFans, ManyVids, iWantClips, Clips4Sale, fans, industry, #rockthevote, nomination, nominees, ceremony, votes