Press Releases for June 2021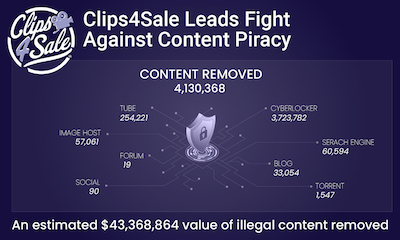 Wednesday, June 2, 2021
CLIPS4SALE
For IMMEDIATE RELEASE
Clips4Sale Leads Fight Against Content Piracy
(Tampa, FL) Clips4Sale (C4S), the video clips market leader, continues to lead the industry in the fight against content piracy. When launching its Content Protection Program to tackle the growing issues related to copyright content, Clips4Sale joined forces with Takedown Piracy (TDP). Since then, C4S and TDP have removed over 4 million infringements. Additionally, we digitally fingerprinted over 7 million videos and counting on the site, further protecting Clips4Sale models and producers at no extra cost.
Clips4Sale has always taken piracy seriously by protecting its models and producers, and now with the C4S Content Protection Program has gone one step further by investing heavily to protect content across the web. Other sites might claim to offer similar types of infringement services, but none of them rival the quality fingerprinting services or results we deliver. The service is free to all Clips4Sale stores, and stores receive a monthly report and now a personalized report.
"I appreciate that C4S treats protecting content regardless of how big or small the studio might be", stated Ludella from Ludella Hahns Fetish Adventures Studio. "And most importantly, I can trust them to chase down and take down illegal content on my behalf."
​"Piracy has long been a thorn in many independent studio's sides. We often don't have the money and resources to be constantly monitoring our content on illegal pirate sites and tube sites," states Jason from Bratty Foot Girls "It's been a big boost to know C4S has our backs and has been putting in a lot of work to go after illegal content and have it taken down without us needing to be proactive ourselves."
Since the program began, the actual takedown numbers are the highest C4S has ever had, and this is just one part of a full program targeting illegal content. For example, TDP automatically scans over 133 sites for infringements, but Clips4Sale's stores can also still submit their own findings and links through the Admin dashboard. Both get immediate attention and results, with a 98.98% removal rate. Additionally, Clip4Sales continues to work on legal actions against pirates and sites across the internet with complete dedication; no other site makes these commitments. These numbers speak for themselves:
Clips4Sale has removed over 4.1 million infringed videos from Cyberlockers, Tube Sites, Search Engines, Image Hosts, Blogs, Torrent, Forums, and Social Media sites (combined automated and manual removals)
30% success rate for requests
Clips4Sale had on average of 350,772 videos removed each month automatically, saving our content creators the aggravation of sending in DMCA notices themselves
Over 43,000 Clips4Sale stores are actively protected from stolen/pirated content due to our Content Protection Program
An estimated $43,368,864 value of illegal content removed since the program initiated
In addition, to enhance our services, we now are excited to launch the industry-first Store-specific piracy removal reports. Each Clips4Sale store can log in to their Store admin and review their very own takedown statistic based on their illegally posted content that had been removed. See how the Clips4Sale automated Content Protection Program has found and removed your illegally posted content by logging into your Store Admin now at admin.clips4sale.com/login.
"No matter how big or small a store is, we protect all our content producers and at no additional cost to them. It's just another service we offer to all our stores that sets us apart from other platforms," says Dariusz Clips4Sale General Manager. "We're reinvesting the money we make in a crucial service like our C4S Content Protection Program with our key partner Takedown Piracy because it is the right thing to do, which further builds loyalty and trust in Clips4Sale."
"Our partnership with Clips4Sale has been gratifying because they understand the importance of protecting their models and producers by allowing us to do what we do best! The fact they offer this level of service free shows their level of appreciation and commitment to the success of their models and producers," says Reba Rocket, VP Marketing and Communications TDP.
If you're a model or producer and do not yet have a Clips4Sale store, now, more than
ever is the time to join and become part of the C4S family. Clips4Sale is the video clips market leader and was the first downloadable video clips site. It's also the only clip site that prides itself on experience, trust, integrity, fairness, and diversity and benefits from the highest traffic. Get started at clips4sale.com/clips/page/openastudio.
All media inquiries about Clips4Sale and their models/producers should be directed to media@clips4sale.com.
About CLIPS4SALE
Clips4Sale is the original and still the #1 downloadable video clips site that offers the most mainstream, kink, and fetish content on the market. Clips4Sale is the most diverse clip site with the largest selection of high-resolution media, and thousands of clips are
added daily. Producers and sellers get some of the highest payouts due to an incredibly high traffic volume, which includes over 1.3 million daily page views and 20 million fetish-hungry visitors each month. All content is extremely secure on their servers and
easy to upload using their uploading system, plus they have the highest bandwidth of any clips site. Clips4Sale also offers easily accessible stats and sales info, free advertising banners for studios on their homepage, and 24/7 technical support for
studios and sellers, in addition to stellar 24/7 customer support. Follow them on Twitter at @clips4sale.
KEYWORDS
Clips4Sale, C4S, C4S Content Protection Program, Takedown Piracy, piracy, infringements, videos, digital fingerprinting, protect, producers, stores, library, partnerships, partners, brand loyalty