Press Releases for July 2021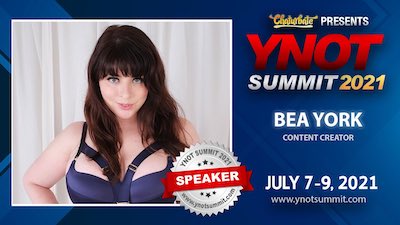 Wednesday, July 7, 2021
BEA YORK
For IMMEDIATE RELEASE
Bea York Set to Talk about SFW Social Media Platforms at YNOT Summit
(Hollywood, CA) Curvy, nerdy, girl next door smut creator Bea York will be a panelist on using SFW social media platforms to get more fans during the 2021 YNOT Virtual Summit taking place Wednesday, July 7th through Friday, July 9th.
Bea York has garnered a ton of worldwide fans by using SFW social media platforms like Reddit and TikTok. On Friday, July 9th at 10am PST/1pm EST, she'll be one of the esteemed panelists on the "From TikTok to Ker-Ching: More Fans through SFW Social Media Platforms" panel—it will delve into accruing more fans using 100% SFW content on TikTok. Joining Bea on the panel will be Raven Noir, Aerie Saunders, MelRose Michaels, and Codi Vore. Find out more about the panel at ynotsummit.com/schedule/from-tiktok-to-ker-ching-more-fans-through-sfw-social-media-platforms.
"TikTok is one of the biggest SFW platforms, and adult models should be using it. The problem is many lose their accounts before they can get the full value out of it. This panel will have tons of tips and tricks to keep you on the platform and getting tons of fans," says Bea York.
For more details about the 2021 YNOT Virtual Summit to register, check out the event schedule, and more info, head over to ynotsummit.com.
To interview Bea York for your site, publication, or show, contact Erika Icon of The Rub PR at erika@therubpr.com.
About BEA YORK
Curvy, nerdy, girl next door smut creator Bea York is known for her award-nominated bodacious T&A, infectious laugh, sense of humor, and style with her eclectic clothing and shoe collection. Her fans around the world enjoy her nude photos and over 400 homemade solo and girl/girl adult clips and have helped her become the star that she is.
Bea scored the cover and a feature in the Karma edition of MV Mag in 2019. She's also received many stellar nominations, including Best Female Clip Artist from the XBIZ Cam Awards in both 2020 and 2021, Favorite Indie Clip Star and Most Spectacular Boobs from the AVN Awards, and two from the Pornhub Awards recognizing her infamous physique for Best Chest and Fan Vote Nicest Tits.
When she isn't filming content, you will find her enjoying a craft beer, reading a Tom Clancy book or fantasy novels, shopping, or indulging in Sci-Fi like Star Wars and Star Trek. Keep up with everything in her universe by following her on Twitter and Instagram at @ubeayork. Find out about all her and her content in one place at beayork.com. Subscribe to her OnlyFans at onlyfans.com/beayork. Buy her clips on ManyVids beayork.manyvids.com, iWantClips iwantclips.com/store/790150/Bea-York, Clips4Sale clips4sale.com/studio/138013/clips-by-bea and Modelhub modelhub.com/beayork. Check out her content for free and thank her with "likes" on Pornhub pornhub.com/model/beayork.
KEYWORDS
Bea York, 2021 YNOT Virtual Summit, Reddit, TikTok, Raven Noir, Aerie Saunders, MelRose Michaels, Codi Vore, SWF, platform, panel, panelist, social media