Press Releases for July 2021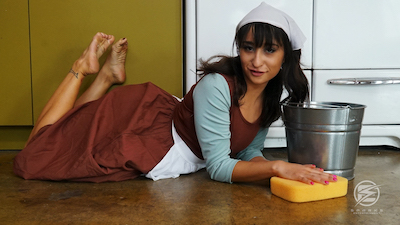 Thursday, July 8, 2021
SPARKS ENTERTAINMENT
For IMMEDIATE RELEASE
Sparks Entertainment Brings Sinderella to Life in New Exclusive Cosplay Scene
(Hollywood, CA) Sparks Entertainment sparks-entertainment.com continues to be one of the most talked-about cosplay sites. This week, Harry Sparks is bringing his spin on Sinderella to life in an exclusive members-only cosplay scene.
"A Sinderella Story" is movie magic like only director Harry Sparks can make. Isabella Nice plays the reinvented cosplay character. Dressed in peasant-like maid attire with a French/Victorian spin Isabella is a maid alone and fantasizing/daydreaming about the ball and her prince charming while she's cleaning. The solo scene is a must-see for cosplay and Isabella Nice fans.
"I have always loved the Cinderella tale and cartoon—this scene is my take on both, just a little more adult. If you loved our other scenes, you'll definitely enjoy 'A Sinderella Story.' Get a sneak peek by watching the SFW or NSFW trailers," says Harry Sparks
Watch the SFW version of "A Sinderella Story" on YouTube youtu.be/JxU_AkVHU6o. The NSFW trailer is available exclusively to members of the Sparks Entertainment Fan Club aka their OnlyFans onlyfans.com/sparksentertainmentfans. Not a member? Join now for $4.99 and check out NSFW trailers, interviews with stars, and more.
To interview Harry Sparks or the site's stars, contact Erika Icon of The Rub PR at erika@therubpr.com.
About SPARKS ENTERTAINMENT
Sparks Entertainment sparks-entertainment.com is the brainchild of avant-garde, award-winning mainstream and adult director, producer, and editor Harry Sparks. The studio is known for its adult/erotic horror, fantasy, and science fiction. 2021 brought the relaunch as a members-only erotic cosplay-themed site with top adult stars as your favorite superheroines, villains, princesses, anime/manga, video game characters, and more. The iconic site also launched a Fan Club with BTS, interviews, and more on OnlyFans onlyfans.com/sparksentertainmentfans.
East Coaster Harry Sparks developed his craft studying film and video production at Florida Metropolitan University, International Academy of Design and Technology-Orlando, Academy of Art University in San Francisco, and UCLA Extension. His short film "A Night to Dismember" debuted in 2006 on IFC's Media Lab Uploaded and was followed up with multiple shorts. His short about global warming, "Shenandoah," received a 2007 Broadband Emmy Award. "All Hallows' Eve" and "Rotkappchen: The Blood of Red Riding Hood" also received critical acclaim.
In 2012, Sparks made his debut in adult producing, directing, and editing AMK Empire's coming of age sex comedy/drama, "Revenge of the Petites." The film won a Gold Kush Award for Feature Film and multiple XBIZ Awards, including Best Cinematography and Best Actress in All-Girl Feature, plus garnered numerous AVN, XBIZ, Venus Awards, XRCOs, Urban X, and Humboldt International/420 Awards noms. His 2013 feature film "The Vampire Mistress," that blended adult and horror, won Dani Daniels the XBIZ Award for Best Actress in an All-Girl Release and scored eleven 2014 XBIZ Awards and four AVN Awards noms. In 2016, "Beauty & the Beast XXX," based on the French fairy tale "La Belle et La Bête," was one of Sparks' most successful titles, featured an all-star cast, won a NightMoves Award for Best Parody – Editor's Choice, and was nommed for nine XBIZ Awards and seven AVN Awards.
Keep up with Sparks Entertainment and Harry Sparks by following their Twitter at @SparksEntTV and @harry_sparks and Instagram at @sparksentertainmentofficial and @officialharrysparks. "Like" Sparks Entertainment's Facebook page at facebook.com/sparksentertainment.
KEYWORDS
Harry Sparks, Sparks Entertainment, Sinderella, Isabella Nice, Only Fans, Fan Club, SFW, NSFW, trailer, prince charming, maid, ball, interviews, exclusive, members-only, cosplay, scene, sneak peek