Press Releases for September 2021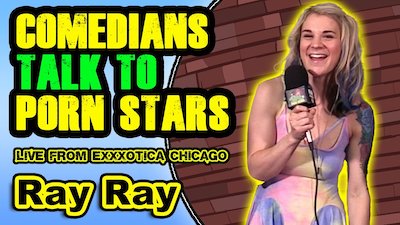 Wednesday, September 1, 2021
RAY RAY
For IMMEDIATE RELEASE
Ray Ray Does Live EXXXOTICA Interview for Comedians Talks to Porn Stars
(Hollywood, CA) In July, gorgeous, all-natural sweetheart and rockstar pornstar allstar Ray Ray appeared at EXXXOTICA Chicago and did a ton of media. Some of her interviews are still coming out, like she did with Blazo Network's Comedians Talk to Porn Stars.
Ray Ray stopped by the Comedians Talk to Porn Stars booth at EXXXOTICA Chicago and did a 10-minute rapid-fire interview with hosts Bo Blaze and Chris Park. Ray Ray glams it up with a pastel dress and multi-colored hair and frequently smiles throughout the interview. Although the interview is short, it's jam-packed with lots of info. She talks about her favorite comedian Dave Chappelle and how she's like to hang out with him in their hometown. Ray Ray also dishes on the funniest thing that ever happened to her on set and her craziest fan story. Of course, there's tons of sex talk with her giving pussy eating advice and divulging one of her signature go-to moves, her idea penis (which she draws), real sex vs. porn sex, her love of gangbangs, and much more. Ray Ray ends the interview by telling a joke and giving out her social media.
"Watch Ray Ray Interview w/ Comedians talk to Porn Stars @ Exxxotica 2021" is available on the Blazo Comedy Network's YouTube Channel youtube.com/watch?v=4AhJjMem7nM. Make sure to hit the like and subscribe buttons and catch the other episodes with some of your favorite adult stars.
'This interview was so much fun, and Bo and Chris are hilarious! I would definitely do their podcast again. I'm looking forward to EXXXOTICA in Miami in a few weeks and doing a ton more interviews," says Ray Ray.
Ray Ray will be appearing at EXXXOTICA Miami from Friday, September 17th through Sunday, September 19th. For more information on the event and to get pre-sale tickets, go to exxxoticaexpo.com/location/miami-fl/#primary.
To interview Ray Ray for your site, publication, or show, contact Erika Icon of The Rub PR at erika@therubpr.com.
About RAY RAY
Ray Ray is the gorgeous, all-natural, sweetheart who is known as the Queen of Gangbangs and in some circles as "the whore you've been waiting for." She's the rockstar pornstar allstar who creates her own content, as well as working with amateur and independent studios. Plus, she's showing that everyday women can do porn—you don't have to be perfect; you just need to forge your own path.
Before adult, she was a medic and sergeant in the military, which helped her hone her exquisite physique. When Ray Ray isn't filming, you'll find her working out, looking for a recreational gangbang, hanging out with her pets, or drawing or painting. In September 2020, Ray Ray was featured in NightMoves Magazine.
Keep up with everything in Ray Ray's world by following her on Twitter @ray_ray_xxx and Instagram @rayofsunshine529. Subscribe to her YouTube Channel to watch her monthly livestream The R Train https://www.youtube.com/channel/UC_oRyeavjKcveyuhsFYtTRg. Subscribe to her Loyalfans loyalfans.com/rayrayxxx and AVN Stars stars.avn.com/ray_ray_xxx. Buy her premium content on ManyVids xxxrayrayxxx.manyvids.com and Modelhub modelhub.com/rockpornallstar. Get a sneak peek and "like" her free content on Pornhub pornhub.com/users/rockpornallstar. Find all her links in one place at allmylinks.com/rayray529.
KEYWORDS
Ray Ray, Comedians Talk to Porn Stars, Chris Park, Bo Blaze, EXXXOTICA, Chicago, Miami, Dave Chappelle, interview, fans, joke, social media, gangbangs, sex talk, media, podcast, comedians