Press Releases for September 2021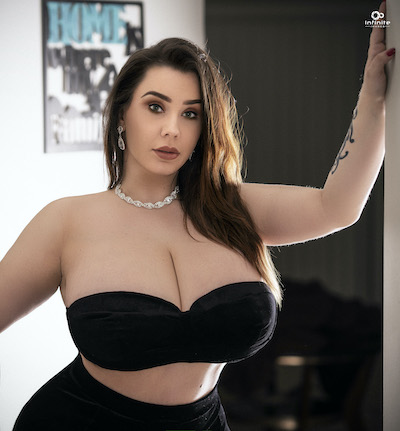 Thursday, September 9, 2021
ROMI CHASE
For IMMEDIATE RELEASE
Romi Chase Looking to Add Another Social Media Star Award to Her Collection
(Miami, FL) In June, award-winning adult content creator, plus-size model, and social media influencer Romi Chase won the Best BBW Premium Social Media Star from the XBIZ Cam Awards. Now, she's looking to add another award to her collection, and it's Social Media Star from the 2021 YNOT Cam Awards.
Romi Chase slays both her social media and premium social media. Now, she's up for Social Media Star from the YNOT Cam Awards and hoping to win, but she needs her fans and industry friends to #rockthevote every 24 hours through September 30th.
All voters must have a YNOT ID to vote. Go to ynotid.com/user/register and pick a username and password and put in your birthday and industry role. Once you get an email that your YNOT ID is approved, head over to awards.ynotcam.com/vote, look for Romi's category, click her name, and hit the "submit vote" button.
"I would love to go two for two and win another social media award. I work very hard on my social media and premium social media. I love my fans and interacting with them, as well as keeping them entertained with my humor and sexy photos. Please vote as much as you can and tell your friends,"
says Romi Chase.
See the complete list of nominees at awards.ynotcam.com/2021/09/01/2021-nominees. The 2021 YNOT Cam Awards are taking place on Thursday, October 14th, at the Avalon in Hollywood, CA. Buy tickets at eventbrite.com/e/ynot-cam-awards-2021-tickets-166425634553. Fans and industry can also watch the show online for free at awards.ynotcam.com.
To book Romi Chase for upcoming projects, email romichasebooking@gmail.com.
To interview Romi Chase for your site, publication, or show, contact Erika Icon of The Rub PR at erika@therubpr.com.
About ROMI CHASE
Adult content creator, plus-size model, and social media influencer Romi Chase is known for her tease and seduction solo and girl/girl content. Originally from Poland, the body-positive Florida-based entrepreneur runs her own production company and offers workshops to help other female performers to succeed. Before delving into fashion, glamour/boudoir, cosplay, and fetish shoots and launching her career on Instagram, Romi was a high school teacher and earned a Master's in Linguistics, Translation, and Teaching Specialization.
In 2021, Romi took home the trophy for Best BBW Premium Social Media Star from the XBIZ Cam Awards. She's scored a YNOT Cam Awards nom for Social Media Star and multiple Inked Awards nominations. Romi has appeared in Woman's Crush Worldwide (WCW), 504 Dymes, and Noodle, Straight STUNTIN, B.A.D.D., and Splash magazines. She's also been featured in solo interviews on mainstream sites Medium and OZY.
Keep up with everything in Romi's universe by following her on Twitter, Instagram, and TikTok at @romi_chase. Subscribe to her Loyal Fans loyalfans.com/romichase for exclusive content, and it's the best place to interact with her, buy customs, and more. Talk dirty to Romi on SextPanther sextpanther.com/romi-chase. Check out her official fan website romichase.com to purchase her photos, videos, and clothes, get links, and keep up with all her projects. Become a member of her Patreon patreon.com/romi_chase to support her and indulge in SFW and NSFW exclusive content, blog posts, and more. Buy a shoutout at Shoutout Express at shoutoutexpress.com/romi_chase. And subscribe to her Verified Pornhub account pornhub.com/model/romichase and like her videos.
KEYWORDS
Romi Chase, YNOT Awards, Hollywood, Avalon, Social Media Star, YNOT ID, Best BBW Premium Social Media Star, XBIZ Cam Awards, nominees, fans, industry, #rockthevote, live show