Press Releases for September 2021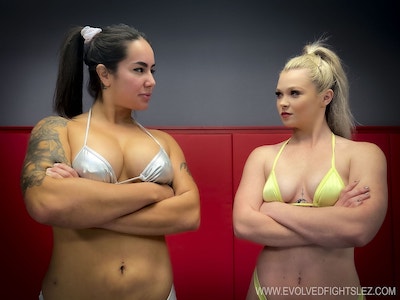 Friday, September 17, 2021
EVOLVED FIGHTS/ARIEL X
For IMMEDIATE RELEASE
Evolved Fights Lez Fall Brawl is On NOW!
(Las Vegas, NV) Evolved Fights Lez's Annual Fall Brawl is on NOW! Match #1 with Kay Carter vs. Miss Demeanor is now available and kicking off the eight-woman bracket-style tournament who are all vying for the title of Greatest Sex Fighter of All Time.
Will Kay Carter take down Miss Demeanor? You'll have to watch the match to see it at evolvedfightslez.com! It's free for Evolved Fights Lez members but can also be purchased à la carte. The winner of Match #1 will take on the winner from Match #3 in the Semi-Finals #1.
Match #2 premieres next week, and it's Daisy Ducati vs. Andre Shakti. Daisy has the most matches and wins of any of the tournament's competitors. Also, next week, look for Daisy's exclusive interview with Fleshbot.com—she's got the most mat fierce on and off the mat.
Each week there's a new match posted on Wednesday. Watch the new matches each week and get caught up in the magic of the Annual Fall Brawl. All the competitors are bringing their A-game, using their strength and sheer will, and are training hard to score the title of Greatest Sex Fighter of All Time. The seven matches conclude with a definitive winner on Wednesday, October 27th.
"This is the most exciting time all year at Evolved Fights Lez! The Fall Brawl gains more momentum each year, and this year could be the best one. I can't wait to see the winner of Pussy Hunting Season. If you're not a member, now is the time to join. Members can see every match of the Fall Brawl for free, as well as some of the greatest wrestling matchups ever," says Ariel X.
Join Evolved Fights Lez by going to evolvedfightslez.com, clicking the "Join Now" button, picking your plan, and getting ready to wrestle.
To interview Ariel X or any of the wrestlers appearing on her sites for your site, publication, or show, contact Erika Icon of The Rub PR at erika@therubpr.com.
About EVOLVED FIGHTS/ARIEL X
Having directed and performed in the wrestling genre for a decade, Ariel X started the unscripted, competitive, and mixed wrestling site Evolved Fights in 2018. The site drew its name from her journey discovering the joys of fetish wrestling, and training and discipline. When she named the site, she hoped every sexual athlete who steps onto her mats gets the same character evolution that she has had. And viewers who watch the fights will never be the same and also evolve. Evolved Fights is all about playful, consensual power exchange that's unscripted—both male and female professional adult talent can dominate their sex player at the end of the match, but they must earn it by winning. The scenes feature amazing talent, top names, loser/prize rounds, and incredible bouts. See what you've been missing and join evolvedfights.com and sister site evolvedfightslez.com for girl/girl matches. Follow them on social media on Twitter @EvolvedFights and @evolvedLez and Instagram @evolvedfightsmodels and @evolvedfightslez.
KEYWORDS
Evolved Fights Lez, Ariel X, Miss Demeanor, Kay Carter, Daisy Ducati, Andre Shakti, Greatest Sex Fighter of All Time, Pussy Hunting Season, Semi-Finals, Finals, Fleshbot, tournament, wrestling, training, bracket-style, winner, members, exclusive, interview