Press Releases for November 2021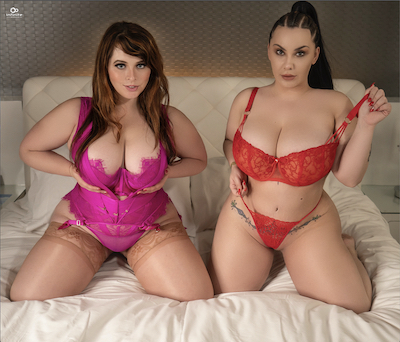 Wednesday, November 10, 2021
ROMI CHASE
For IMMEDIATE RELEASE
Romi Chase & Bea York Collab for Incredible Exclusive Content
(Los Angeles, CA) Award-winning adult content creator, plus-size model, and social media influencer Romi Chase and curvy, nerdy, girl next door smut creator Bea York have collaborated and are releasing some incredible exclusive content for their fans.
Last month, Romi Chase and Bea York were in Los Angeles for YNOT's Cammunity and to attend YNOT Cam Awards, where they were both up for Social Media Star. While they were both in the City of Angels, they decided to take advantage of it and filmed content together for the very first time. The collaboration includes two videos and a stunning photo set. The first video which dropped last week is Femdom BBW Futanari JOI that has them both giving jerk-off instructions to a guy off camera and threatening to peg him. The second video is set to drop next week on both their OnlyFans and will be a sensual masturbation scene as the ladies cum together side by side and even rub up on one another. Both scenes and the photo set will be only available on Romi's OnlyFans OnlyFans.com/Romichase and Bea's OnlyFans onlyfans.com/beayork.
"It was really great to work with Bea. It was our first time collaborating, and it definitely went well—we look great together on camera. And with two hot BBWs like us, it's going to drive our OnlyFans subscribers wild!" says Romi Chase.
"I'm glad I took advantage of this trip and got to film content with other creators. Most of my content is solo, so it's great to be able to collaborate with someone like Romi. I'm really pleased with how it turned out and hope my fans enjoy it," says Bea York.
To interview Romi Chase or Bea York for your site, publication, or show, contact Erika Icon of The Rub PR at erika@therubpr.com
About ROMI CHASE
Adult content creator, plus-size model, and social media influencer Romi Chase is known for her tease and seduction solo and girl/girl content. Originally from Poland, the body-positive Florida-based entrepreneur runs her own production company and offers workshops to help other female performers to succeed. Before delving into fashion, glamour/boudoir, cosplay, and fetish shoots and launching her career on Instagram, Romi was a high school teacher and earned a Master's in Linguistics, Translation, and Teaching Specialization.
In 2021, Romi took home the trophy for Best BBW Premium Social Media Star from the XBIZ Cam Awards. She's scored a YNOT Cam Awards nom for Social Media Star and multiple Inked Awards nominations. Romi has appeared in Woman's Crush Worldwide (WCW), 504 Dymes, and Noodle, Straight STUNTIN, B.A.D.D., and Splash magazines. She's also been featured in solo interviews on mainstream sites Medium and OZY.
Keep up with everything in Romi's universe by following her on Twitter, Instagram, and TikTok at @romi_chase. Subscribe to her Loyal Fans loyalfans.com/romichase and OnlyFans OnlyFans.com/Romichase for exclusive content, and it's the best place to interact with her, buy customs, and more. Talk dirty to Romi on SextPanther sextpanther.com/romi-chase. Check out her official fan website romichase.com to purchase her photos, videos, and clothes, get links, and keep up with all her projects. Become a member of her Patreon patreon.com/romi_chase to support her and indulge in SFW and NSFW exclusive content, blog posts, and more. Buy a shoutout at Shoutout Express at shoutoutexpress.com/romi_chase. And subscribe to her Verified Pornhub account pornhub.com/model/romichase and like her videos.
KEYWORDS
Curvy, nerdy, girl next door smut creator Bea York is known for her award-nominated bodacious T&A, infectious laugh, sense of humor, and style with her eclectic clothing and shoe collection. Her fans around the world enjoy her nude photos and over 400 homemade solo and girl/girl adult clips and have helped her become the star that she is.
Bea scored the cover and a feature in the Karma edition of MV Mag in 2019. She's also received many stellar nominations, including Best Female Clip Artist from the XBIZ Cam Awards in both 2020 and 2021, Favorite Indie Clip Star and Most Spectacular Boobs from the AVN Awards, Social Media Star from the YNOT Cam Awards, and two from the Pornhub Awards recognizing her infamous physique for Best Chest and Fan Vote Nicest Tits.
When she isn't filming content, you will find her enjoying a craft beer, reading a Tom Clancy book or fantasy novels, shopping, or indulging in Sci-Fi like Star Wars and Star Trek. Keep up with everything in her universe by following her on Twitter and Instagram at @ubeayork. Find out about all her and her content in one place at beayork.com. Subscribe to her OnlyFans at onlyfans.com/beayork. Buy her clips on ManyVids beayork.manyvids.com, iWantClips iwantclips.com/store/790150/Bea-York, Clips4Sale clips4sale.com/studio/138013/clips-by-bea and Modelhub modelhub.com/beayork. Check out her content for free and thank her with "likes" on Pornhub pornhub.com/model/beayork.
About The RUB PR
Romi Chase, Bea York, Los Angeles, YNOT's Cammunity, YNOT Cam Awards, Social Media Star, Femdom, BBW, Futanari, JOI, OnlyFans, masturbation, scenes, photo set, collaboration, content, fans, subscribers