Press Releases for May 2022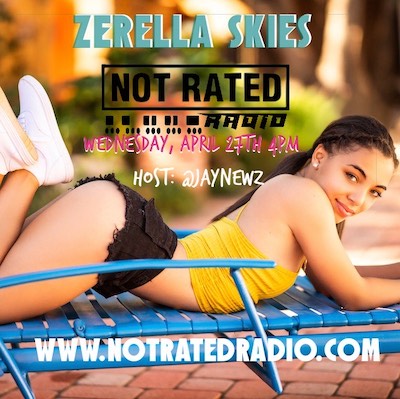 Monday, May 2, 2022
ZERELLA SKIES
For IMMEDIATE RELEASE
Zerella Skies Guests on Not Rated Radio & Stars in FreeUseMILF Scene
(Hollywood, CA) Sweet, sexy, and exotic Zerella Skies is the latest guest on real talk podcast, Not Rated Radio, and stars in a recent scene from FreeUseMILF.
Known for having no rules and boundaries, Not Rated Radio is real talk, and this week's guest is Zerella Skies, and she keeps host Jay Newz on his toes. In "Episode 016: Adult Star: Zerella Skies – Talks Being the Queen of BJs, they two chop it up about why she's dubbed the Queen of BJs and her trademark moves, 4/20 and her fave weed strands, being humble and still enjoying being on set and working in adult, her start in the industry, coming up with her porn name, what she does when she's not on set, what she has coming up, and much more.
"Episode 016: Adult Star: Zerella Skies – Talks Being the Queen of BJs" is available on Spotify and Apple Podcasts. The video version is available on YouTube youtube.com/channel/UCC8GWdvuvrVMObz3TeO0HSg and the Not Rated News official site notratedradio.com.
"I had a great time on Jay's show. He was really laid back and a lot of fun. It felt more like a conversation among friends than an interview. Jay did learn a few things from me, like how amazing Chinese pork buns are," says Zerella Skies.
Another place where you'll find Zerella is on the Team Skeet premium site FreeUseMILF. "The Mischievous Sleepwalker" revolves around David Lee, who has a sleepwalking problem. His stepsister Zerella and stepmom Kayla Paige who always snap him out of it, find out he's playing them. They both enact their revenge on David and end up completely satisfied. Watch the trailer and member-exclusive at freeusemilf.com/movies/the-mischievous-sleepwalker.
Zerella Skies is available exclusively through OC Modeling. Get her on your set by contacting Sandra at 818.298.6939 or Sandra@ocmodeling.com, Anthony at 818.428.0978 or Anthony@ocmodeling.com, or Eric at 818.854.5175 or eric@ocmodeling.com. View her stunning agency photos at ocmodeling.com/model/zerella-skies.
To interview Zerella for your site, publication, or show, contact Erika Icon of The Rub PR at erika@therubpr.com.
About ZERELLA SKIES
Sweet, sexy, and exotic Zerella Skies might just be the official Queen of Blowjobs. She definitely deserves the tiara for her signature moves the Z Slurp and Dragon Throated, long tongue, and tongue piercings. Plus, for bonus points, she can do it hands-free. The California girl has impressed her costars with her enthusiasm and talent for kinky acts. With a little less than a year in the biz, she's already worked with Exploited College Girls, Brazzers, Reality Kings, Team Skeet, Swallowed, Nympho, All Anal, DickDrainers, and Porn Pros.
Before delving into adult, Zerella was a stripper and got into the industry by applying online and submitting her photos to an agency. Her highly original porn name is inspired by the video game Zelda, the movie Ella Enchanted, and her love of the sky. She's graced the pages of Strip LV and Kittens Magazine. When Zerella's not on set, you'll find her at the gym, hiking, modeling, writing stories and novels, and working towards her dream of being in bodybuilding and bikini competitions.
Keep up with everything in Zerella's growing empire by following her on Twitter @Zerellaskies and Instagram @zerellaskiesss. Subscribe to her free onlyfans.com/zerellaskiesx and VIP OnlyFans onlyfans.com/zerellaskies. Find out why she has 2.7 million video views and 18.9k subscribers by checking out her porn star verified Pornhub pornhub.com/model/zerellaskies. And find all her links in one place at allmylinks.com/zerellaskies.
KEYWORDS
Zerella Skies, Not Rated News, Jay Newz, Spotify, Apple Podcasts, YouTube, Team Skeet, FreeUseMILF, David Lee, Kayla Paige, Queen of BJs, trademark moves, weed, industry, podcast, stepsister, sleepwalking, trailer, member-exclusive