Press Releases for May 2022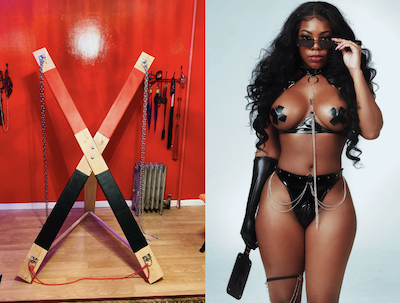 Wednesday, May 4, 2022
MISTRESS MARLEY
For IMMEDIATE RELEASE
Mistress Marley's Whipz Dungeon Officially Open & Announces Goddess Dinner & Content Creator Event
(New York, NY) Prolific New York Findom Specialty Domme, Sex/Kink Educator, Event Curator, Mogul, Activist, and Mentor Mistress Marley's Whipz Dungeon is officially open for events, parties, and more. And this month, she has two events in NYC—a Goddess Dinner and Content Creators event for Sex Workers.
In March, Mistress Marley, along with Goddess Rue and Goddess Bria who comprise The Trifecta, had a grand opening of Their POC Sex Worker Dungeon, Whipz, in Brooklyn. The new Black Femme-owned Dungeon is fully equipped with tools, toys, and BDSM furniture. The dynamic new space is now available for rent industry private sessions, parties, parties, workshops, and more. Currently, Whipz hosts monthly Domme/sub worship parties, Content Creation workshops, and Nude Paint & Sips. To book your event at Whipz, email whipzdungeon@protonmail.com or visit whipzdungeon.wixsite.com/whipzdungeon.
Mistress Marley also has two must-attend events. The first is Goddess Dinner NYC: Burlesque + BDSM on Sunday, May 15th. Mistress Marley and Burlesque performer Mandarine Moonfly are hosting the event. The interactive learning experience has guests being schooled on Femdom and Findom techniques and the art of Burlesque. There are seven levels of tickets available for purchase, including one package that includes a decadent dinner. For more info and to purchase tickets, visit thechocolatedomme.com/event-details/goddess-dinner-nyc.
On Friday, May 20th, Whipz Dungeon is hosting a Content Creation Event for Sex Workers for need affordable photos or videos for their brand and give them the chance to network and collaborate with other Sex Workers. Led by femme photographers, amenities such as props and creative direction will be included. The event has multiple packages with two to unlimited outfit changes. Attendees must come hair and makeup ready as well as dressed in at least one of their outfits. More information and tickets are available at eventbrite.com/e/swer-content-creation-event-tickets-319708385387.
"These events will sell out, so buy your tickets now. Both events are a great way to network and learn more about Femdom, Findom, Burlesque, and/or making content. And Whipz is now open for events and is perfect for sessions, parties, parties, workshops, and more. We're so proud of the Dungeon and the reception we've received from POC Sex Workers in Brooklyn and beyond," says Mistress Marley.
To interview Mistress Marley about Pynk Matrixx, Whipz Dungeon, and her other endeavors for your site, publication, or show, contact Erika Icon of The Rub PR at erika@therubpr.com.
About MISTRESS MARLEY
Mistress Marley aka Chocolate Domme is one of the most prolific Dommes in the NYC scene and beyond. Specializing in Findom, She's also a Sex/Kink Educator, Event Curator, Mogul, Activist, and Guiding Mentor to up and coming Dommes.
Mistress Marley was a fashion designer and worked in the fashion buying industry before quitting to become a full-time Dominatrix. This background came in handy when She launched Her lingerie line, Pynk Matrixx pynkmatrixx.com, with inclusive sizing made for sex Workers and Adult Content Creators. In 2019, Her video walking a sub on a leash through North Carolina Central University's homecoming event went viral and put Her on the map. Since then, Paper Magazine, NY Times, NY Post, Men's Health, Playboy, Refinery 29, Fuse TV, Paper Mag, Forbes, Complex, and Buzzfeed have all featured Her.
Although She's achieved great success in the past three+ years, Mistress Marley is all about giving back, and recently opened Brooklyn's first Black Women Owned Dungeon, Whipz, for POC sex workers. She runs a mentoring collective, the Black Domme Sorority gf.me/u/xvy9zw, where Black and Afro-Latinas Dommes are welcome in the organization to network, promote their content, reclaim Their power, and be part of a true support system. Mistress Marley also offers extremely affordable courses through Her Sexacademy patreon.com/sexcademy, where attendees can learn about BDSM, content creation, sugaring, and vanilla sex at their own pace, and new courses are added multiple times each week.
Keep up with everything in Mistress Marley's universe by following her on Twitter @eyesxonfire, Instagram @mistressofmoneyy, Snapchat @mistressmarle, and TikTok @mistressmarley. Find out more about her by checking out her official site thechocolatedomme.com. Subscribe to her Official YouTube Channel youtube.com/channel/UCCJFXCChN8VRmcXUoNsPLUA. Join Her OnlyFans onlyfans.com/marleythegoddess and let her call the shots in many different fetish realms. Bow down and serve Her on SextPanther sextpanther.com/Mistress-Marley and tell Her your fantasies for a price on NiteFlirt niteflirt.com/MistressMarley94#. And get all Her links in one place at linktr.ee/thechocolatedomme.
KEYWORDS
Mistress Marley, Whipz Dungeon, The Trifecta, Goddess Rue, Goddess Bria, POC Sex Workers, Dungeon, Brooklyn, Content Creation workshops, Nude Paint & Sips, Goddess Dinner NYC: Burlesque + BDSM, Mandarine Moonfly, Femdom, Findom, Burlesque, Content Creation Event for Sex Workers, private sessions, parties, parties, workshops, dinner, tickets, femme photographers, props, creative direction, photos, videos, brand, network