Press Releases for November 2022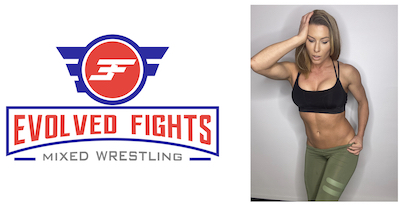 Sunday, November 27, 2022
EVOLVED FIGHTS/ARIEL X
For IMMEDIATE RELEASE
Ariel X & Evolved Fights Garner 1st XBIZ Awards Nominations
(Las Vegas, NV) Evolved Fights is a true original with a massive following. As a director, referee and sometimes wrestler, Ariel X has taken mixed wrestling to new heights, and now the site has scored its first XBIZ Awards nomination. And Ariel X also scored a nod for Best Sex Scene - All-Girl for her acting and on-screen appeal.
Last week, the XBIZ Awards were announced at a lavish red-carpet event at Sound in Hollywood. While the top categories were announced at the party, the rest were posted to the iconic XBIZ site, and Ariel X and her Evolved Fights made the coveted list of nominees. Ariel X received her very first XBIZ nomination for Fetish Site of the Year for EvolvedFights.com.
"I'm honored to be nominated by XBIZ with so many other incredible sites. It's great to be recognized for doing what you love. Thank you, XBIZ, for the nomination," says Ariel X.
Ariel was also recognized for her scene work. She garnered a nom for Best Sex Scene - All-Girl for her role in AllHerLuv's "Love Behind Bars" for her scene with Olive Glass.
A complete list of the 2023 XBIZ Awards nominees for 109 categories can be viewed at xbiz.com/news/270082/2023-xbiz-awards-nominees-announced.
The 21st annual XBIZ Awards will take place Sunday, January 15th, at the historic Hollywood Palladium ending a week full of events, including the XBIZ tradeshow and X3.
To interview Ariel X or any of the wrestlers appearing on her sites for your site, publication, or show, contact Erika Icon of The Rub PR at erika@therubpr.com.
About EVOLVED FIGHTS/ARIEL X
Having directed and performed in the wrestling genre for a decade, Ariel X started the unscripted, competitive, and mixed wrestling site Evolved Fights in 2018, and in 2019 launched the sister site Evolved Lez. The original site drew its name from her journey discovering the joys of fetish wrestling, and training and discipline. When she named the site, she hoped every sexual athlete who steps onto her mats gets the same character evolution that she has had. And viewers who watch the fights will never be the same and also evolve. Evolved Fights is all about playful, consensual power exchange that's unscripted—both male and female professional adult talent can dominate their sex player at the end of the match, but they must earn it by winning. The scenes feature amazing talent, top names, loser/prize rounds, and incredible bouts. See what you've been missing and join evolvedfights.com and evolvedfightslez.com. Both sites scored 2021 Fleshbot nominations for Best Paysite Gay and Best Paysite ALT and in 2023 she scored Best Directing Portfolio – Specialty and Female/Female Specialty Performer of the Year AVN Awards noms and Fetish Site of the Year and Best Sex Scene - All-Girl from the XBIZ Awards. And also join the newest site, Submissive X submissivex.com, which combines muscles and sensual lesbian bondage with Ariel X starring in all the scenes with some of the biggest names in adult and your favorite stars from Evolved Fights and Evolved Lez. Follow them on social media on Twitter @EvolvedFights and @evolvedLez and on Instagram @evolvedfightsmodels and @evolvedfightslez.
KEYWORDS
Ariel X, XBIZ Awards, Evolved Fights, Sound, Hollywood, Hollywood Palladium, Fetish Site of the Year, Best Sex Scene - All-Girl, AllHerLuv, Olive Glass, nomination, nominees, categories, director, referee, wrestler, mixed wrestling