Press Releases for September 2023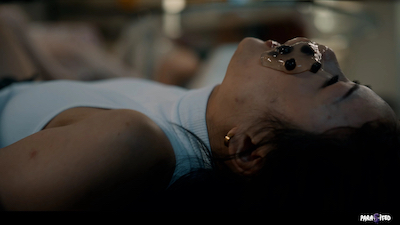 Thursday, September 7, 2023
HENTAIED/FUTANARI/PARASITED
For IMMEDIATE RELEASE
Parasited Makes Sushi Glamorous with an Alien Twist
(Budapest,Hungary) The alternative world site Parasited parasited.com, where parasites take over hot babes' bodies, has a new scene that brings food horror to new heights.
Directed by Ricky Greenwood, "Sushi Glamour" stars Kimmy Kim and Lulu Chu, who both were in his first Parasited offering. The scene also stars Madi Collins and Nathan Bronson. The scene opens with all three girls getting together to indulge in some sushi. Little do the girls know that Tommy (Nathan Bronson) is tired of being used by his girlfriend, Lulu, and he's heard what her friends have to say about him. So, as payback, Tommy throws in a few alien parasites in the sushi. As Madi, Kimmy, and Lulu savor the sushi, they realize something is very wrong, but it's too late because the creatures are already inside them. After choking and contorting on the furniture, the ladies are possessed and are sex crazed. Tommy enjoys the sight of them ripping off their clothes and knows he's finally going to get what he wants since they've been parasited. Kimmy gives him a crazy blowjob while Madi and Lulu kiss and finger each other. But there's one more parasite that Tommy didn't count on, and he also becomes possessed by the alien. A wild parasited orgy ensues between all four, and no one can escape without being fully satiated. And Tommy is now one of them.
"Using food as a horror tool and a vehicle for the parasites is incredible and very creative on Ricky's part. Our members are loving it and can't get enough. After watching this, you may be afraid ever to eat sushi again," says Creator/Producer Romero Mr. Alien.
Take a sneak peek and watch the exclusive "Sushi Glamour" scene at parasited.com/sushi-glamour.
For media inquiries about Parasited, contact Erika Icon of The Rub PR at erika@therubpr.com.
About HENTAIED/FUTANARI/PARASITED
Parasited is an alternative world with the hottest babes and mind-controlling alien bugs. The highly original and exquisitely filmed scenes revolve around alien parasites taking over hot babes' bodies to carry out their handiwork. Mixing horror and sex are two huge turn-ons, which has made this new high-end possessed girl site a hit. Parasited snagged a 2023 XBIZ Europa Awards nomination for Best Sex Scene — Lesbian.
Explore the site at parasited.com. Follow Parasited on social media on Twitter @parasited_xxx and IG @mralienreal. Parasited is part of the Hentaied universe on Pornhub, is one of the top-ranking studios, and is consistently in the Top 100 Channels on Pornhub pornhub.com/channels/hentaied with over 59 million views and 162k subscribers.
KEYWORDS
Parasited, Romero, Ricky Greenwood, Lulu Chu, Kimmy Kim, Nathan Bronson, Madi Collins, sushi, horror, parasites, creatures, blowjob, alien, orgy