Press Releases for September 2023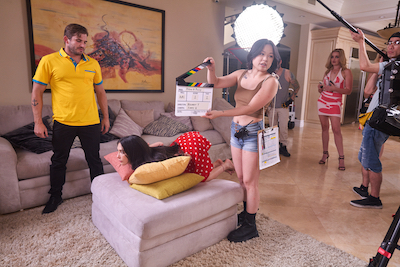 Thursday, September 14, 2023
BLOOMER YANG/OLIVER WONG
For IMMEDIATE RELEASE
Kali Roses, Bang Bros, Anais Amore, Peter Green, BJs, oil, twerking, bikinis, neighbor, oral, positions, binge-watching, trailer, scene
(Hollywood, CA) Taiwanese-born award-winning adult film director Bloomer Yang's latest series "Behind the Scenes" is a huge hit and the mockumentary feature just premiered its fourth episode.
From the beginning of Delphine Films' "Behind the Scenes," the director of photography (Will Pounder) had been trying to get back together with the assistant director (Lulu Chu) even though he and Gaffer Timmy (Tommy Pistol) hooked up with the production assistant Paige (Charlie Forde) for a three-way. In "The Director of Photography Hustles," Jimmy realizes he needs five jobs to afford one girlfriend in Los Angeles, so he does other jobs for the cast and crew for pay, including massages, shining shoes, stripping, and therapy sessions. Female talent (Jane Wilde) chats with the AD about giving Jimmy another chance and her side job, escorting. The AD sees Jimmy is making an effort by bringing her coffee and taking other jobs and asks him if he wants to make it work. Of course, he does, and the two hook up since they're still on their lunch break. This episode also features male talent (Nathan Bronson) and the director (Oliver Wong).
"Although it's a mockumentary, some of what happens in BTS is true. Ok, maybe not the three ways with the crew, but other things. I'm glad it's been so well received, and we might have to do a Part 2," says Bloomer Yang.
Catch up on "Behind the Scenes," and watch the three previous episodes and the latest one at delphinefilms.com/videos. A new episode will premiere each Thursday for the next three weeks.
To interview Bloomer Yang, aka Oliver Wong, for your site, publication, or show, contact Erika Icon of The Rub PR at erika@therubpr.com.
About BLOOMER YANG/OLIVER WONG
Taiwanese-born adult film director Bloomer Yang is one of the biggest rising stars on the director front. With over 50 scenes filmed for Model Media USA's studio Delphine Films delphinefilms.com, his standout films feature great storytelling and passionate sex scenes with three-dimensional characters that he writes and directs. His goal is not just to get the viewer off but also to get a reaction that might even include tears or laughter. Classically trained, Bloomer holds a Masters in Screenwriting and a bachelor's in film production. In 2022, he was nominated for a pair of Fleshbot Awards nominations for Movie of the Year and Best Oral Sex Scene, which he took home the trophy for. The AVN Awards also nommed him for his Best Directing Portfolio – Narrative, scene work, and Mainstream Venture of the Year for his stand-up comedy as Oliver Wong. The XBIZ Awards also nommed him for Director of the Year – Feature and an additional eight noms for his scene work.
Bloomer is a man of many talents, including his comedy career under the name Oliver Wong. In 2018, after graduate school ended, he had a dead-end job and visa issues. Looking for an outlet to express his feelings, he stepped onto the stage of Flappers Comedy Club for his first show, and the rest is history. Like most comedians, his style is a cross between self-deprecating and observational. He uses being Asian, a gay man, an immigrant, his HIV Positive status, and his career as an adult film director as fodder for his comedy. His comedic influences include Ali Wong, John Mulaney, and Iliza Shlesinger.
Oliver is a podcaster who started with the Get Intimate Podcast, where he interviewed everyone from actors to nerds. Now, he and Hustler journalist and fellow comedian Teresa Lo have launched the Sex & Boba Podcast. The two chat about sex, pop culture, Asian-American issues, and themselves in a funny but honest way. Tune in weekly for new episodes on Apple Podcasts and Spotify under the Get Intimate Podcast.
Keep up with Bloomer Yang/Oliver Wong's adventures as an adult director and up-and-coming comedian by following him on Twitter @theoliverwong, Instagram @oliverwongcomedy, and TikTok @oliverwongcomedy. Follow his podcast on Instagram at @getimtimatepodcast. Subscribe to his YouTube channel youtube.com/channel/UClr50JY0yzhYuc5bz5YUSSQ to see his comedy and podcast videos and learn more about his exciting life. And get all his links in one place at linktr.ee/oliverwong.
KEYWORDS
Bloomer Yang, Oliver Wong, Delphine Films, Lulu Chu, Tommy Pistol, Will Pounder, Nathan Bronson, Jane Wilde, Behind the Scenes, BTS, director, assistant director, production assistant, gaffer, assistant director, director, massages, mockumentary, feature, episode