Press Releases for November 2023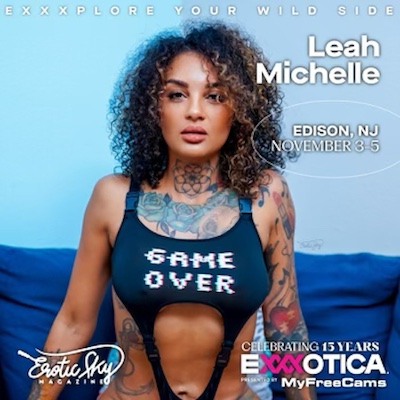 Wednesday, November 1, 2023
LEAH MICHELLE
For IMMEDIATE RELEASE
Leah Michelle Ready to Rock EXXXOTICA at Erotic Sky Mag & AltErotic Booths
(Hollywood, CA) This weekend, award-winning, exotic, stunning, and one-of-a-kind Leah Michelle is set to appear at her first EXXXOTICA. She's signing at the Erotic Sky Magazine and AltErotic booths all three days of the expo.
This Friday, November 3rd, through Sunday, November 5th, EXXXOTICA, New Jersey, is happening. Leah Michelle's fans have much to be excited about and can meet her at the Erotic Sky Magazine and AltErotic booths.
Leah's signing at the Erotic Sky Magazine all three days of the expo. Fans can meet and take a selfie with her, buy Volume 4 of the magazine (which features her as an Empress), and score a signed photo. Look for her Erotic Sky Mag banner to find her and the booth. Leah is signing Friday 5pm to 8pm, Saturday 7pm to 10pm, and Sunday 2pm to 4pm.
Fans can also meet Leah at the AltErotic booth. They can meet the rising star, snap a selfie with her, and buy a signed 8x10 of her and the "Inked Motel 4" DVD she stars in. Look for her full-size pop-up at the booth. She's signing Saturday 1pm to 2pm and Sunday 4pm to 6pm.
"This is my first EXXXOTICA, and I'm so excited to be signing at the Erotic Sky Magazine and AltErotic! I will be there all three days of the show, so make sure to find me at one or both booths," says Leah Michelle.
EXXXOTICA New Jersey is taking place at the New Jersey Convention & Exposition Center located at 97 Sunfield Avenue in Edison, NJ. Show hours are Friday 5pm to 11pm, Saturday 1pm to 10pm, and Sunday 1pm to 6pm. For more info about the expo or to buy pre-sale tickets visit exxxoticaexpo.com/locations/edison-nj.
Leah Michelle is self-booking—get her on your set by emailing her at helloiitsleahtho@gmail.com.
To interview Leah Michelle during EXXXOTICA New Jersey, contact Erika Icon of The Rub PR at erika@therubpr.com.
About LEAH MICHELLE
Exotic, stunning, and one-of-a-kind are three words consistently used to describe Leah Michelle, who also has become known as the Bush Queen for her impressive bush. Before adult and now, the Army veteran is in the business of making people beautiful. Leah started as a cam model and content creator but recently became a mainstream adult as a performer. Already, she has worked with Brazzers, AltErotic, and Blush Erotica, been featured as an empress in Erotic Sky Magazine, won an Urban X Award for Hottest Fetish Star, and has been nominated for multiple AltPorn and Fetish Awards. Leah's star is definitely rising, and she just scored a highly coveted gig as an AltErotic ambassador.
Keep up with all Leah's adventures on and off set by following her on Twitter/X, Threads, and IG at @helloitsleahtho and Reddit reddit.com/user/Iitsleahtho. Support her endeavors as a content creator by subscribing to her OnlyFans onlyfans.com/leahmichellevip and/or Fansly fansly.com/Helloitleahtho/posts. Buy her videos à la carte on ManyVids manyvids.com/Profile/1005761287/LeahMichelle/Store/Videos. Watch Leah's content for free on Pornhub pornhub.com/pornstar/leah-michelle and XVideos xvideos.com/amateur-channels/leahmichelle, and make sure to like and subscribe. And get all her links to her premium and social media in one place at linktr.ee/iitsleahmichelle.
KEYWORDS
Leah Michelle, EXXXOTICA, Erotic Sky Magazine, AltErotic, Edison, New Jersey, DVDs, selfie, fans, interviews, expo, tickets, photo, magazine, pop-up, banner