Press Releases for November 2023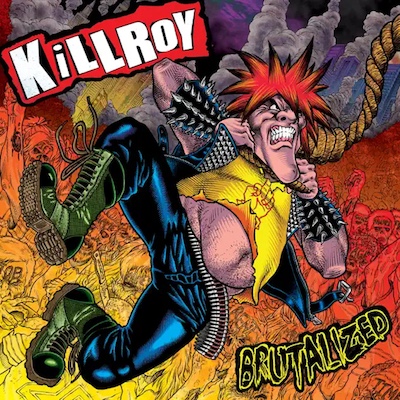 Sunday, November 12, 2023
JIM POWERS
For IMMEDIATE RELEASE
Jim Powers' Punk Band Killroy Drops Must-Have EP
(Hollywood, CA) Multi-award-winning prolific director Jim Powers also doubles as a bassist for punk rock band Killroy, and they have a new must-have EP out now.
In 1982, Jim Lane, Tom De Spain, and Eric Troop formed Killroy, one of the first American Oi bands. They toured the US two years after releasing their second record, "Believe in The Ruins." After the tour, the band went underground and occasionally play at top LA venues like the Roxy, Viper Room, and Knitting Factory.
The original members and Ken Wilkes on drums have dropped an EP this week that you will be fiending to add to your music collection. Killroy's "Brutalized" is on the Mental Records label, featuring five new high-energy classic punk rock songs. Songs include the title track, "I'm a Man," "Punk Rocker," "Lazy Slob," and "TV."
"We're really proud of this EP—it's our first album since 2020, so it was definitely time. Be ready to have your mind blown and tell your friends," says Jim Powers.
Apple Music subscribers can listen to the "Brutalized" EP on Apple Music for free. Buy the EP and their previous albums in the iTunes Store.
Follow Killroy on Facebook at facebook.com/p/Killroy-100042236266426.
To interview Jim Powers for your site, publication, or show, contact Erika Icon of The Rub PR at erika@therubpr.com.
About JIM POWERS
Jim Powers is one of the most prolific directors of our time who's always been known for being controversial and once told Forbes he wants to be the Warren Buffett of porno. Growing up in the Valley in the 1970s, Jim was influenced by comic books, horror movies, fan magazines, and skateboarding, and in the 1980s, all he wanted to do was be a punk rocker and skateboarder. After graduating from Cal State Northridge, he became a stockbroker, a DVD distributor, and a part-time pornographer.
In 1992, while gambling in Ballys in Vegas, Jim wandered into the AVN Awards and decided he could make a better movie than most people there for $5k—he and his friend put up $2500 each to make "The Hills Have Thighs." Kevin Beachum of Midnight Pictures encouraged him to shoot amateurs on the beach, even though he had never even picked up a camera. While shooting on the beach in Malibu, his set was shut down, and he was hit with felony charges of pandering and conspiracy. He continued to shoot at private houses and swinger parties for Beachum and other companies to cover his legal bills.
In 1993, a chance meeting with Jeff Mike of JM Productions led to history when the two joined forces, regularly pushing the limits of sex while still staying out of prison. Jim helped them roll out their bukkake line and invented American Bukkake—Downtown Larry Melrose from the Howard Stern Show was frequently on his sets. Jim had his own company, Powersville, and directed for legendary adult studios Heatwave, Mayhem, Sin City, Notorious, Immoral Productions, and Smash Pictures. Currently, he directs for Gender X, Devil's Film, BiPhoria, Dogfart, Zero Tolerance, Adult Time, Transfixed, Fantasy Massage, and Addicted to Girls, and averages over 300 scenes per year.
With 50 performer credits and thousands of scenes as a director, Jim won Director of the Year (Body of Work) and Best Director - Non-Feature from the AVN Awards and was inducted into the AVN Hall of Fame in 2005. He's also scored countless AVN Awards nominations for Best Director, Best Director – Feature, Director of the Year: Individual Project, Best Directing Portfolio – Specialty, Best Director – Parody, Director of the Year (Body of Work), Director - Non-Feature, and Best Videography, as well as Gonzo Director of the Year from the XBIZ Awards, Best Producer Nominee from the TEAs, Best Director – Parody from XRCOs, and Top BDSM Release from AEBN's VOD Awards.
During the Black Flag era, Jim sported a mohawk and toured in punk rock bands. He still plays bass in the punk rock band Killroy at high-end venues like Roxy, Viper Room, and Knitting Factory. Follow his adventures on set, learn more about his upcoming scenes and features, and when he plays punk rock live on stage by checking out his Twitter/X @jimpowersxxx.
KEYWORDS
Jim Powers, Killroy, Tom De Spain, Eric Troop, Ken Wilkes, Ep, Roxy, Viper Room, Knitting Factory, Mental Records, Apple Music, iTunes Store, EP, punk rock, album, bassist