Press Releases for November 2023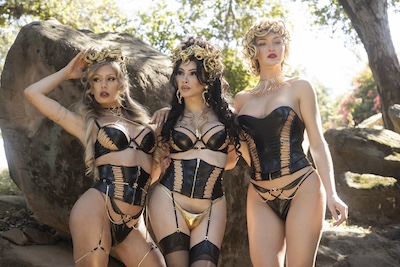 Tuesday, November 14, 2023
ARIEL DEMURE
For IMMEDIATE RELEASE
Ariel Demure Opens Pre-Sale for Epic Tale Of Gorgons and Goddesses
(Hollywood, CA) Smoking hot, glamorous, and versatile multi-award-winning trans performer Ariel Demure is releasing one of the most epic scenes of 2023 that stars 11 of the top trans performers in the industry. "Gorgons and Goddesses" will be released next week, but pre-sale is now open.
"Gorgons and Goddesses" is based on Greek mythology. The Nine Muses carouse with Greek Gods Dionysus and Apollo, as the three Gorgon Sisters crash the party to take on the arrogant male deities. The Gorgon Sisters believe the Muses are more worthy of worship than the old gods. The snake-haired vixens seduce the muses, and an 11-girl, all-trans female XXX orgy ensues.
"Gorgons and Goddesses" has an all-star cast of the current generation of top trans performers, top gay male and trans male performers in non-sex roles, and a world-renowned reality-show celebrity/performer also in a non-sex role. Ariel Demure, Jade Venus, and Tori Easton are the Gorgon Sisters. The nine muses are Kasey Kei, Brittany Kade, Foxxy, Izzy Wilde, Khloe Kay, Eva Maxim, Leilani Li, Emma Rose, and trans fashion model/actor/musician Gia Gunn, who appeared on multiple seasons of RuPaul's Drag Race brings the comedic talent to the scene. Michael Boston and Austin Spears dazzle as the Greek Gods.
"Gorgons and Goddesses" is directed by Michael Vegas and photographed by Inamorata Photo. Ariel wears many hats—she co-wrote the scene with Charlotte Rickard, designed and made all the costumes, co-produced the project with Ten15Group, assisted with hair and makeup, and has a starring role.
The "Gorgons and Goddesses" pre-sale is available on Ariel's OnlyFans onlyfans.com/arieldemure and the OnlyFans of the 10 other trans adult stars for $30.
On November 23rd, the scene will also be unveiled on their OnlyFans. The VOD version is set to be released on multiple platforms in January, and the DVD will be released in the summer so the scene can be considered for next year's awards season.
"Originally, this project was to celebrate my birthday on November 26th, but it became much more than that. It's a labor of love with so many incredible stars and an award-winning director, photographer, and scriptwriter connected to it. I'm so fortunate to work with such amazing people, and the scene will definitely blow everyone who sees it away," says Ariel Demure.
Find out more about "Gorgons and Goddesses" by reading the exclusive on-set write-up and interview by Austin King on Porn Crush porncrush.com/articles/gorgons-and-goddesses---ariel-demure-serves-as-jacqueline-of-all-trades-in-planning-executionof-11-girl-trans-orgy.
Get Ariel Demure on your set by booking her directly with no fees by emailing her at ArielDemure11@gmail.com.
To interview Ariel Demure for your site, publication, or show, contact Erika Icon of The Rub PR at erika@therubpr.com.
About ARIEL DEMURE
Ariel Demure is a chameleon who could be dark-haired, a redhead, or blonde on any given day. Her smoking hot looks harken back to the glamourous Vivid and Digital Playground contract stars who heated up the screen. And although she's glamorous, she's also down to earth and has a sparking personality and wit. Award-winning, sought-after directors like Ricky Greenwood sing her praises for being the total package of beauty, professionalism, acting, and on-screen performances. At a young age, it was evident that she was destined for greatness when she snagged the crown for prom queen in high school. Ariel got her start in the industry in strip clubs, was a makeup artist who did drag performances under the name Liv Demure for five years at local show bars in Fort Lauderdale and worked retail before making the leap into adulthood.
With just a few years in the industry, Ariel is in demand and has worked for all the top studios and has appeared in over 80 scenes for Adult Time's Oopsie! and Transfixed, Grooby, Evil Angel, TransAngels, Gender X Films, Devil's Film, and Transsensual, and has scored tons of DVD covers. And she's one of the few stars to have a perfect 5-star rating from fans on Adult Empire.
Ariel has also received many accolades for her work, and in 2023 she won Best Hardcore Performer and Best Boy/Girl Scene from the TEAs and Best Thespian – Trans/X and Best Trans One-on-One Sex Scene from the AVN Awards and Best Top, Best Threeway Scene, and Movie of the Year from the Fleshbot Awards. Additionally, she has received eight AVN Awards nominations for Trans Performer of the Year, Best Thespian (twice), Best Trans Newcomer, and multiple noms for her scene work, six TEAs nods for Best Hardcore Performer (twice) and scene work, Trans Performer of the Year from XBIZ, Best Transsexual Performer from NightMoves, Best Premium Social Media Star from the AltStar Awards, seven Fleshbot Awards noms for Trans Performer of the Year and her scene work, Best Transgender Performer of the Year from the Urban X Awards, and Trans Performer of the Year from the XRCOs. Ariel's been profiled by AVN Magazine, who hailed her as one of the top newcomers when she scored four AVN Awards nominations in 2022, more than any newcomer in history.
Keep up with everything in Ariel's world by following her on Twitter, IG, and Reddit at @ArielDemure. And watch some of her best content, including being on set, BTS, and her worldwide adventures, by subscribing to her OnlyFans onlyfans.com/arieldemure.
KEYWORDS
Ariel Demure, Ariel Demure, Jade Venus, Tori Easton, Kasey Kei, Brittany Kade, Foxxy, Izzy Wilde, Khloe Kay, Eva Maxim, Leilani Li, Emma Rose, Gia Gunn, Michael Boston, Austin Spears, RuPaul's Drag Race, Michael Vegas, Charlotte Rickard, Inamorata Photo, Ten15Group, Dionysus, Apollo, Greek Gods, Muses, Gorgon Sisters, DVD, VOD, OnlyFans, costumes, hair, makeup, vixens, orgy, awards season, reality show, celebrity