Featured Press Releases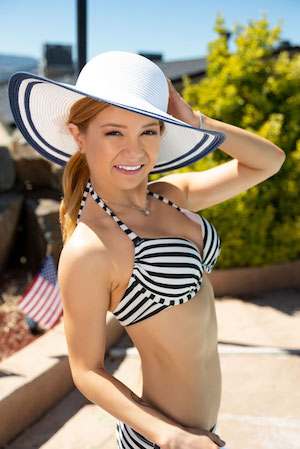 Tuesday, February 26, 2019
ALICE LITTLE
For IMMEDIATE RELEASE
Alice Little Welcomes Robert Kraft & Press to the Moonlite Bunny Ranch
(Carson City, NV) Petite powerhouse Luxury Companion and legalized sex work and sex education advocate Alice Little would like to welcome Robert Kraft and the press to the Moonlite Bunch Ranch in Carson City, Nevada.
Last week, Patriot's owner and billionaire Robert Kraft was arrested for solicitation. Alice would like to extend an offer for him to visit the Bunny Ranch. Many of the ranch and Alice's clients are high-powered CEOs, high profile sports figures, and the biggest names in entertainment, because not only is the Bunny Ranch legal, but they are also discreet. Plus, he would be visiting legal sex workers, and not be involved in another sex trafficking scandal.
Separately, Alice would also like to extend an invitation to the press for them to take a tour of the ranch, and be briefed on services offered, as well educate them on the difference between sex trafficking and sex workers. Alice would also like to discuss anti-brothel Jason Guinasso's federal lawsuit. Guinasso is seeking to overturn legalized prostitution in Carson City and make it illegal in the whole state of Nevada.
"Robert Kraft shouldn't be denied his needs, and he should definitely come to the Bunny Ranch," says Alice Little. "There's nothing wrong with seeing a legal sex worker! We understand he has a busy schedule and we offer companionship that's discreet. No one would ever know he's been here. And if he likes, he can be a guest on the Wing Woman Podcast."
"Our offer to the media is a completely separate offer," continues Alice Little. "We want the world to see what we have to offer. There's no scandal here, just an alternative to traditional relationships. Scores of men, women, and couples visit and leave satisfied."
Media can contact Erika Icon of The Rub PR at erika@therubpr.com to set up interviews and photo shoots with Alice, as well as tours of the Bunny Ranch.
Representatives of Robert Kraft and anyone looking to spend some quality time with Alice at the Bunny Ranch can make an appointment by using the contact form https://thealicelittle.com/contact/, email her at the Bunny Ranch alicelittle@bunnyranch.com, or call her at 775.246.9901.
About ALICE LITTLE
Although Alice Little might be a petite 4'8" and 80 pounds, she's a powerhouse. Born in Ireland, the fierce redhead is the #1 Luxury Companion at the world-famous Moonlite Bunny Ranch and holds the title of 2018 Bunny of the Year, hosts her own radio show the Wing Woman Podcast, blogs for SheKnows, and is a massive advocate for legalized sex work and sex education in public schools.
Alice is quickly becoming known as the go-to sexpert and intimacy, and has been featured on ABC's Nightline, Buzzfeed, Refinery 29, BBC News, Fox News, UK's The Sun, Tim Ferris Show and Shane & Friends podcasts, Qz.com, and Allison Schrager's book An Economist Walks into a Brothel, as well as gracing the pages of Hustler magazine.
Keep up with everything in Alice's world and check out her official site thealicelittle.com. Tune into her podcast the Wing Woman Podcast on iTunes, Listen Notes, Player FM, Podchaser, and Podbean. Follow her on Twitter @thealicelittle, Instagram @thealicelittleofficial, and Facebook facebook.com/TheAliceLittle. Subscribe to her YouTube https://www.youtube.com/channel/UCMl6gE-PPKdjIWgJaNlvK3w. And, support Alice's current and upcoming projects by becoming a Patreon patron at https://www.patreon.com/alicelittle.
KEYWORDS
Alice Little, Moonlite Bunny Ranch, Jason Guinasso, Nevada, Wing Woman Podcast, brothels, sex workers, invitation, offer, tour, services, media, press