Featured Press Releases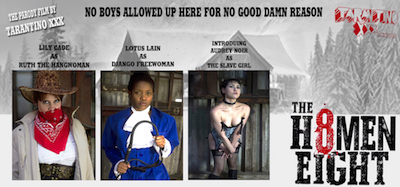 Monday, April 25, 2016
TARANTINO XXX
For IMMEDIATE RELEASE
Indie Filmmaker Issues Legend Quentin Tarantino a Challenge
(Hollywood, CA) Adult Indie Filmmaker Tarantino XXX recently attended a special double feature screening of Quentin Tarantino and Robert Rodriguez's grindhouse films "Planet Terror" and "Death Proof" at the New Beverly Cinema. In between the movies, the legendary director/actor got up on stage and personally thanked everyone for coming. The whole evening left Tarantino XXX mesmerized. It was then that Tarantino XXX had an epiphany—he decided he wanted Quentin to collaborate with him and help him finish his "Hateful 8" parody entitled "The Hatemen 8".
The first scene shot for "The Hatemen 8" features Lily Cade as Ruth The Hangwoman and Lotus Lain as Django Freewoman, and introduces Audrey Noir as The Slave Girl. Written and directed by Tarantino XXX, the plot is quite innovative. In an alternate world where the Old West meets World War II, lesbians rule the world, men are abolished, and slavery is allowed. Eight lesbian strangers are trapped inside a cabin in the mountains during a blizzard. With nothing to do for a very long time, the ladies must figure out a way to keep themselves entertained, until help arrives or the snow melts. The movie answers the burning questions of will they survive and will more lesbians join them.
"I've idolized Quentin since I was 14 and saw 'Pulp Fiction' in the theater," says Tarantino XXX. "He was the reason I started making movies. Quentin knows of me and even asked a friend about me. I sent him some of my movies, and I hope he's watched them."
"I am issuing Quentin a challenge to help me complete 'The Hatemen 8'," continues Tarantino XXX. "And not only do I want him to bring his movie making magic to my set, but I also want to screen it at the New Beverly Cinema, which he owns."
Tarantino XXX will be entertaining his fans and members of his site with one scene from "The Hatemen 8". On May 2nd, the scene will be available exclusively on his newly redesigned site, http://www.tarantinoxxx.com/ . The NSFW trailer can be viewed on his site and the SFW version can be viewed on YouTube at https://www.youtube.com/watch?v=FuR8szsKLWU&feature=youtu.be .
To interview Tarantino XXX for your site, publication or show, contact Erika Icon of The Rub PR at erika@therubpr.com.
About TARANTINO XXX
Adam Christopher (known famously in the adult industry as Tarantino XXX) started in the adult biz in 2010. He began filmmaking after dropping out of the Art Institute of Colorado film school in 2007, where he started a low budget horror website called Grindhouse Parody (based after the Robert Rodriguez/Quentin Tarantino double feature film "Grindhouse"). A few years later, a friend convinced him he should shoot a Grindhouse-type porn, and Adam decided to join the adult industry. He changed the name of his site to GrindhouseXXX.com and adopted the name Tarantino XXX. Grindhouse XXX then evolved into TarantinoXXX.com where the content specializes in foot fetish (a famously known favorite of the real Tarantino) and parodies of his work.
Keep up with everything in Tarantino's world by joining his site http://www.tarantinoxxx.com/ and following him on Twitter at @TarantinoXXX and Instagram at https://www.instagram.com/tarantinotriplex/ .
KEYWORDS
Tarantino XXX, Quentin Tarantino, New Beverly Cinema, Hateful 8, The Hatemen 8, Lily Cade, Lotus Lain, Audrey Noir, Old West, World War II, Pulp Fiction, lesbians, trailer, SFW, NSFW, grindhouse