Featured Product Reviews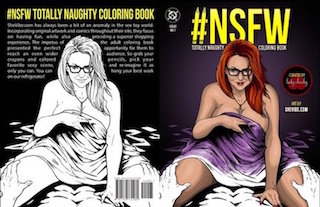 Friday, June 17, 2016
SHEVIBE.COM
#NSFW Totally Naughty Coloring Book
Who said you had to color in the lines? With the #NSFW Totally Naughty Coloring Book, it's going to be very hard because you're going to be distracted by highly charged, erotic images inside. Yea, coloring has never been this much fun, and this is actually an adult comic book (not like those ones that say they are but they're really not).
BBW hottie, sex educator Lady Cheeky (aka Elle Chase) has teamed up with SheVibe.com for this exciting project. Lady Cheeky not only curated the coloring book, but also got herself as on the cover as an animated drawing—it's tastefully done with implied nudity and in the classic comic book style of something that you would buy from DC or Marvel. The cover will definitely draw you to look inside.
I was very excited to get this in the mail. Immediately, I opened it up and started flipping through the 36 pages, and was so wowed by the amazing drawings by famed comic artist Alex Kotkin that I almost didn't want to ruin them by coloring them. This coloring book is sure to be a classic and a collector's item—might be a good idea to buy two, one for coloring and the other just to keep.
Just looking at pictures in the #NSFW Totally Naughty Coloring Book will turn you on with three ways, girls with girls, an orgy, solos with toys, and much more. The details are incredible with some of the girls being tatted, close up shots up a girl giving a guy a hand job, a guy putting cherries into a girl's mouth, sexy lingerie and props like whips, and cityscape views from a window.
#NSFW Totally Naughty Coloring Book makes a great gift for yourself or someone else, and has an affordable price tag of under $15. It might even be fun to spend a night at home with a friend coloring naked—ah, the naughtiness that could lead to. Just make sure to buy crayons and/or makers, since they don't come with them. This is the first issue and I can't wait for more! Buy your copy at http://www.shevibe.com/ or http://www.ladycheeky.com/.