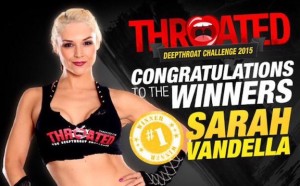 Sarah Vandella is the Queen of Deep Throat. She came out swinging at the beginning of the Throated Challenge with a stellar scene and took the title with the help of her fans. She cinched the win by a major landslide.
When asked to comment, she had this to say, "I'd like to give a huge thank you to my fans and everyone who entered my fan contest and Throated for the honor. I'd also like to thank my agent, Mark Schechter, and my publicist, Erika Icon, for all their support."
We've very proud of her huge victory. Fleshbot gave her some amazing coverage on the win and it can be seen at http://straight.fleshbot.com/6013960/sarah-vandella-crowned-ms-throated-2016.