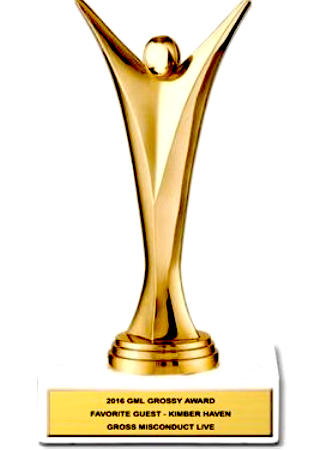 Gross Misconduct had their very first awards show. Our clients did well in the nominations department. Kimber Haven scored four, Ryan Driller scored two for Fave and Sexiest Guest, Lindsey Leigh scored three including Most Interesting Guest, and Bobbi Dylan scored one for Favorite Adult Performer.
The big winner was Kimber Haven grabbing wins for three of her four nominations. She scored trophies for Favorite Guest, Most Interesting Guest, and Most Popular Guest.
Another winner was our Owner, Erika Icon, who was honored with the The Honorary "Hall of Awesome" Grossy Achievement Award for her work with the show in acquiring them guests and being a good rep for the adult industry.
See more about the awards at http://www.grossmisconductlive.com/the-grossys.