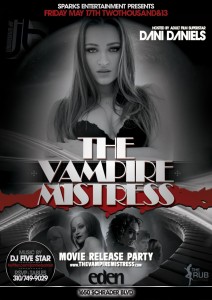 This May, we will be throwing parties for two of our clients. We're starting the fun with a release party for Sparks Entertainment's "The Vampire Mistress" on Friday May 17th at Eden Nightclub in Hollywood. Hosted by Dani Daniels, the event should not be missed.
Then on Sunday May 26th, we will be hosting another party for our newest client, Angelina Valentine, at the very high end Supper Club, which is also located in Hollywood. Super Club is also the place where the XRCOs are this week, so everyone will be familiar with it.
Angelina Valentine is now with OC Modeling and available for booking. See more reasons to book her here: http://www.ocmodeling.com/model.php?id=448.
Both events are in conjunction with Jamie Barren Presents, the only promoter we use for all of our events.