Product Reviews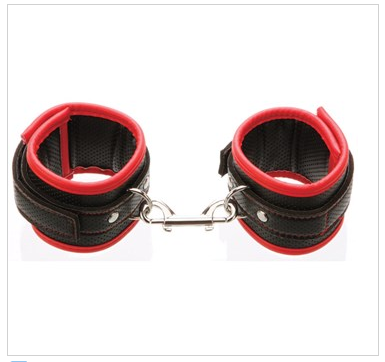 Monday, October 20, 2014
ADAM & EVE
Scarlet Bound to Surrender Cuffs
With the rise of amateurs trying bondage after the popularity of 50 Shades, cuffs are a hugely sought after item. The thing is that many professional fetish items are scary to civilians. The Scarlet Bound to Surrender Cuffs are definitely the exception. And, they so well made and aesthetically pleasing with black and red accents that professional role players and subs/doms will appreciate them, too. Lots of kinky fun is to be had with these cuffs.
The Velcro is a nice touch and makes it easy to fasten the cuffs on your lover or on yourself at your dom's command—and, they adjust to really big, really small and in between so they work for everyone. They cuffs are sturdy, yet very comfortable which makes role playing even more fun. And the metal hook on each cuff, allows you to chain your hands or ankles together (depending on where you use them). It also allows you to be tethered (or to tether your lover) to the bedpost, shower rod or other place to keep them in place and subservient.
Although one set may be plenty, I would suggest picking up two so you can bound your lover's ankles and wrists for the most action, Newbies might want to just start off with one set and feel safe with those before graduating to cuffing both the ankles and wrists at the same time. This is also the perfect first item for newbies to experiment with.
I think the coolest thing about this item is that Adam & Eve make them and they're affordable at a less than $30 price point. I have seen cuffs like this go for $100 and up, and aren't even made this well. And, the packaging is pretty impressive also. This is a great gift to surprise your love with or make a bondage basket with along with other items like a gag ball, whip, and maybe even a silk mask, depending on the level on your games. They also made of vegan leather so no one will be offended…well, hopefully.