Product Reviews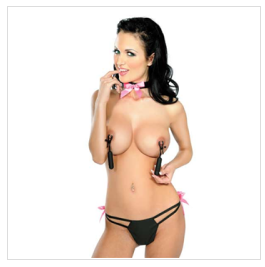 Thursday, May 15, 2014
PIPEDREAM
Fetish Fantasy Series Cordless Vibrating Nipple Clamps
I can sum up this review in one word…ow! These are not only uncomfortable, but they hurt—I will admit to having nipples that are more sensitive than normal, but the fact is that these nipple clamps don't work for me. The weight of the motor, casing and battery attached to the clamps makes them heavier than your typical clamps, and potentially hurt more. They weren't too adjustable, so I couldn't make them as loose as I liked—the clamp itself is quite small, so maybe if the clamp itself was bigger, there would have been more adjustability. The actual motor feels like nothing when they nipple clamps are actually clamped to your breasts.
So I decided to make lemonade out of lemons and look for a way that I could use this toy. When you actually just take the clamps into your hands and put the vibrating part to your breasts, it's actually nice and just enough power to make it feel like your boobs are being licked or gentle sucked on. Of course, I couldn't use them with another toy at the same time, but it was still pleasurable. They also came with a free mask, which I didn't use since I have tons, but it's still a nice touch. But more importantly, it comes with batteries so you're not on some great hunt to find some.
I would say these would make a good bachelorette or birthday gift for a girlfriend but for an almost $40 price tag, I could find better items to give someone. I'm really bummed about these nipple clamps and was really looking forward to them coming in the mail.