Product Reviews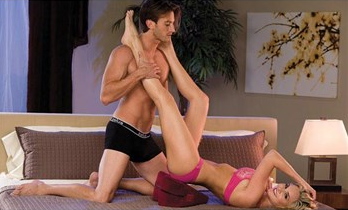 Saturday, November 15, 2014
LIBERATOR
Heart Wedge
I love this toy. It's an aesthetically pleasing, useful and just cute. If you're unfamiliar with Liberator, they make a line whole of wedges in different shapes and sizes that allow you to be comfortable and/or have sex in a multitude of positions you might not be able to without it.
When I first took it out of the box, I had to put it in another room to air it out. It smells quite toxic. But, it was all worth it when it came time to use it. It goes right under the butt and is great for missionary and other poses on your back. You can also prop it up under your knees or elbows when doing doggy. If you're creative, you will find a bunch of uses for it. It's so plush (like velvet) and so soft that you could even sleep on it.
The cool thing about it is that it's discreet. It looks like a heart-shaped pillow you would just have on your bed. The deep red color works perfect with my color scheme in my bedroom. I would love to have a second one but not for $85. I think it's worth it for all the use I will get out of the one, though. Also, the cover zips right off, so you can wash it.
This is a nice gift for guys to buy for their girlfriends—it shows you care enough to give her even more pleasure and you want her to be comfortable in the process. I could even see giving this as a bridal shower or birthday gift to an adventurous friend. But the best person you can buy it for is yourself. You really want to get one of these for your bedroom and it's small enough to travel with. I wish I had bought one sooner.