Product Reviews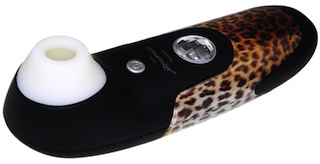 Friday, February 26, 2016
EPI24
The Womanizer
This toy has been the most revered sex toy in years. People can't seem to get enough of it, and don't mind spending almost $200 to get one. And, it's winning a ton of awards, including a 2016 XBIZ Award for Innovative Sex Toy of the Year. I was very excited to receive this toy in the mail and ready to use it right away.
The good thing is that it doesn't require batteries and has a charger. The bad part is that it takes more than a few hours to initially charge and/or if you let it run alway the way down to zero power. I also got the red/rose colored one, which has a cheeky 1980s vibe to it—I would have preferred the hot pink/zebra combo or the black/leopard one. Yes, those are very 1980s too, but way cooler.
I took the Womanizer with me on a trip to San Diego. Unfortunately I brought the instruction manual that was not in English. With enough playing around with it, I was able to figure it out. It wasn't easy and I really thought the toy would be more powerful than it is. I did orgasm with it blowing air and nipping at my clit, but it wasn't a "wow" like a g-spotter vibe. I used it two other times in order to give it a chance and was still unimpressed. So, maybe the issue is with me because after reading a ton of consumer reviews on Amazon, people really love it. Or maybe the issue is that I'm a seasoned pro with toys and this is more for people who have issues with toys and using them. One woman had even given up on toys. Yea, I'd never do that.
So if you're someone who has issues getting off with toys and wants to spend that kind of money on a toy, go for it. I think it would be a great gift for a bridesmaid or from a guy for his special lady. It does come in a very nice box, is bejeweled and definitely looks like something special…well, for the right person.