Product Reviews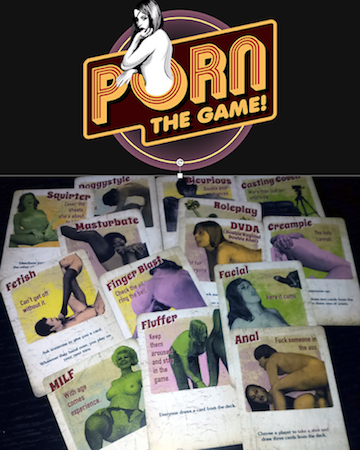 Friday, June 17, 2016
PORN THE GAME
Porn The Game
Yes, you read right—porn is now a game, a card game for adults. Put the kids to bed and get ready for a wild night in.
I played the game with some real live porn stars at the filming of the first episode of "Forked", coming soon from Adam & Eve. It was cool to play with people who understand the meaning of the cards and there were some awesome jokes. We had a great time, even though I wished we played longer. It was during a non-sex dinner scene, so look for it to come out later this year.
The premise of the game is simple—three players start with fours cards each and the deck is set aside to draw from. Whoever gets rid of all their cards first wins. But, you will probably be having so much fun playing this game, you will want it to last and just keep playing all night, especially if you do it as a drinking game. There's bound to be some kind of sex at the end of the night with this game, too.
The cards themselves are super cool with vintage graphics. For vanilla players (aka civilians), this game can be an education and eye opener. Casting Couch, Bukkake, Skat Play, Golden Showers and more are actual cards with instructions. There's also comedy, like the Crabs! card that lets you know you're infested, the Donkey Show card that tells you to act like an ass and pretend to fuck like a mule for laughs, and the Pegging card which is labeled as "The new French kiss". And, if you draw the Tentacle Monster or Cable Guy card, you just might win.
If you really like drinking you will also want to pick up the 2nd pack the E.D. Expansion with 18 extra cards. E.D. stands for Extreme Drinking, by the way. The Ping Pong Show card is my fave and not easy to do even after a few drinks. But don't worry, you won't have to shot ping pong balls out of your snatch like the girl on the card!
It's a great birthday or just anytime gift. The packs are small and easily fit into your pocket or purse to take anywhere. I haven't had this much fun in a long time and can't wait to play it again. But next time, I'm taking more pictures.
The original game comes in at a price tag under $20 and the E.D. Expansion is under $10. Buy both on their site at http://www.pornthegame.com/. It's great for a gift or to actually play at a bachelor or bachelorette party. Or, you even might want to have a party and dress up like the old school porn stars from the 70s and 80s, and then play it.