Product Reviews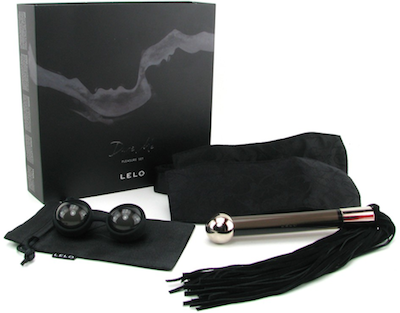 Friday, June 20, 2014
LELO
Dare Me Pleasure Set
My years of working in adult/porn have made me one jaded bitch. I have become some kind of uber freak, far, far different from civilian/vanilla people. This set is NOT for people like me—it's for people who blush when reading "50 Shades of Grey" and can only image a life one-tenth (or even one-hundredth) of something like that. I'm not making fun of these people—they're just a complete different demographic from me, and that's rather humorous.
The set itself is stunning with beautiful and stylish black box that's perfect for gift giving. It comes with a set of Benwa Balls, the most non-threatening suede flogger I've ever seen and dainty silk cuffs/blindfolds, along with a satin travel bag—and they're all black like in the inside of the plush box. Yes, it's wicked and wild, if you're inexperienced in bondage and are looking for something to do that's on the edge. This is set is perfect for first time bondage goers and the faint at heart. Although, Benwa Balls aren't really considered bondage.
The set will set you back $119 and doesn't seem worth the price tag. If you have a rich boyfriend or girlfriend who is willing to spring for this extravagance. Personally, I'd rather head over to the Pleasure Chest and get some real bondage gear as separate items. But, that's just me. But 99 percent of the population will probably love this set, since it's so out of their realm and could be considered wild.