Product Reviews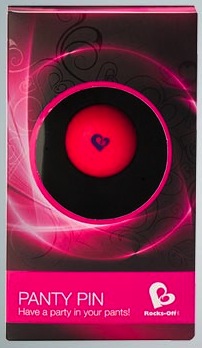 Tuesday, July 29, 2014
ROCKS-OFF
Panty Pin
Life can be stressful, whether you're sitting in traffic or at your desk, a little distraction of the sexual or orgasmic kind can be a bright spot in your day. The little ball (that is about the size of a ping pong ball) and it clips to your panties or bikini bottoms to give you discreet vibrations. The cup underneath holds it in place. It's very easy to figure out, which is a huge plus in my book. It's pink, which is awesome. And, it's velvety smooth, which makes it even more pleasurable. The batteries are already included, so nothing is stopping you from using it right away.
If you're going to use it in public, there are a few things to keep in mind. You can't make the "o" face or make noise, because it will be a dead giveaway. The toy isn't whisper quiet, so don't stand too long next to strangers—keep on moving. It has a dial base, so it's not easy to turn off, and you don't want to get caught in public with your hands down your pants. If it gets to be too much, you will need to make a quick dash to the little girls room.
An added bonus is you can use it in water and when you do, the toy makes little bubbles like hot tub jets. I don't usually use toys in the bathtub since your natural lubricants and even lube can get washed away, but this toy is the exception. How many times have you put your snatch right over a jet in a hot tub? Don't say never.
It would be a great toy for couples. The guy could take control and instruct his girl on where she would use it and how long. I'm going to try this next…I'm getting hot just thinking about it.
For a $15 price tag the toy is a winner. The base is hard to open and it's not very quiet, but outside of that, it's a great buy and the packaging has been redesigned and looks expensive, perfect for gift giving. I may be buying a bunch for Xmas gifts—act surprised if you're client or friend I'd give a gift like this to.