Product Reviews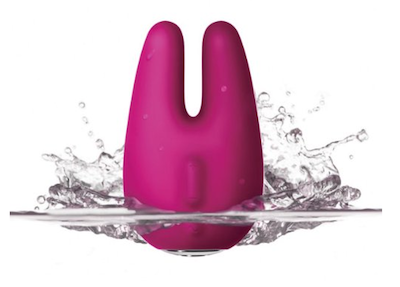 Saturday, November 1, 2014
JIMMY JANE
Form 2 Vibrator
The old phrase you get what you pay for definitely applies to my review of this awesome vibe. At aprice tag of over $150, the JimmyJane Form 2 is worth every penny. Very seldom am I so impressed with a toy, but this is now at the top of my toy list. And apparently, Gizmodo and Glamour think it's top notch also.
First off, it feels great in your hand—the size is perfect and it's velvety soft. I like that it comes in my favorite two colors, which are pink or black. I got a pink one. The funny thing is it looks either like rabbit ears or a tooth, depending on which direction it's facing up.
The tiny dynamo is great for traveling and will fit into a make-up back, glove compartment or your purse, so you can travel with it. It's also good for the car when you're stuck in traffic and need some "distressing". Since it is oddly shaped, you might have some explaining to do if you go through security at the airport with it.
Now for the best part…it might be a few inches high and a few inches wide, but it packs a punch vibrations-wise. It is so amazingly powerful that I was even blown away. You can use both ends of the tooth at once (or singly) or go right in the space between and hit multiple spots of pleasure. It's also SUPER quiet, which is a good thing—you might not be quiet when using it, but it's almost silent.
So, here are the cons. It doesn't use batteries, which is a good thing and has this cute little dock (like an iPod), but it takes a while to charge—like two or three hours. It also only has 4 settings, and more would be nice, even though the ones it has are pretty damn excellent. Oh and the instructions are ridiculous—they look like ones from Ikea to put together furniture. Fortunately, you can figure out how it set up the dock, plug it into put in the wall for a charge, and how to use the toy, since it's a pretty simple system. It does come with quite a few plugs for the back (which will make you a little nuts riffling through all of them to find the right one), so you're set no matter where in the world you live.
And it's not necessarily a con, but I find it funny…this toy was invented by two guys. Apparently, so was the tampon. I guess men understand our bodies and us more than we women think they do.
If you're debating whether or not to buy this toy because of the price, it's worth it and will probably replace a lot of toys already in your arsenal and/or will keep you from wanting to pick up new toys in the future.
It makes a great gift, but you're not going to want to give this away, unless you're buying it for your girlfriend and you like watching her completely getting her rocks off.