Product Reviews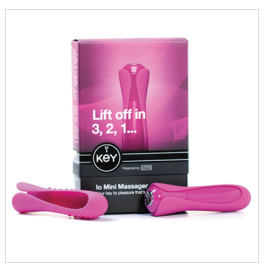 Thursday, May 1, 2014
JOPEN
Key Mini Massager
Out of all three toys I reviewed, I liked this one was the best. The black and pink box was a nice touch—how did they know these were my favorite colors? The vibe comes with 2 sleeves—a soft/smooth one and one with numbs/bumps. It's also so small that it only needs one "AA" battery, which is pretty cool. It is also pretty discreet and can be dropped in your makeup bag.
After popping the battery in, I went to town. I tried the sleeves first and only liked the one with numbs/bumps. It's better to just use the toy solo without the smooth sleeve. Despite the fact the vibe is small, it does pack a decent punch power-wise, and it has five pretty intense speeds—just push the button at the top to find the one that turns you on. And it's pretty much silent so you can it and use it anywhere without being detected. The only thing that confused me initially was the on and off—I knew how to turn it on, but couldn't figure how to turn it off. I unscrewed the top, which was annoying. Then, I read online that you need to press the button at the top down for three minutes. Yes, it does help to read the directions in or on the back of the box.
For almost $50, I can think of other toys I'd rather own that are far cheaper. You're paying for the aesthetic of the packaging and that this toy will last, since you can tell it's not cheaply made. It's a good gift for a bachelorette or birthday gift—the packaging is so pretty that you can slap a bow on it.