Product Reviews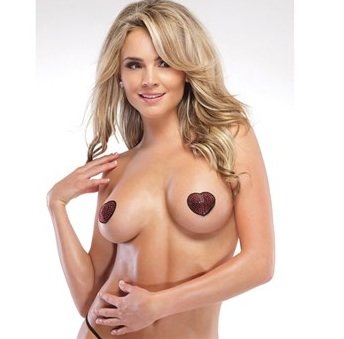 Friday, February 6, 2015
ADAM & EVE
Rhinestone Heart Pasties
I love pasties and hearts, so I had to order the Rhinestone Heart Pasties. They are black and red and super shiny. Or, you can go for the all black model. The amazing thing about them is they almost fit over my nipples, which isn't an easy task for any pasty. They go on easily—just peel off the backing and press into your nipple for about 10 seconds and viola…they're on.
Yes, anyone can feel like an exotic dancer/stripper in the comfort of their own home. You can even be daring and wear them under your clothes. If I had a stripper pole in the house, I would definitely be using these pasties with it. Meow!
They come off easily and without too much pain. And if you get some eyelash glue, you can reuse them over and over again. They are supposed to be reusable with the self adhesive, but after one use they are harder to keep on.
With an under $20 price tag, they make a great gift for your girl, yourself or even a bachelorette gift!
Get yours at http://www.adameve.com.