Product Reviews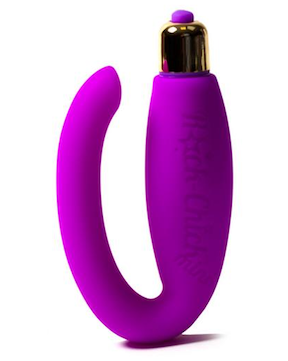 Saturday, August 30, 2014
ROCKS-OFF
Rock Chick Mini Vibrator
First off, the packaging on the Rock-Chick Mini Vibe is top notch—aesthetically pleasing and easy to open with great instructions right on the box. I was also very impressed that the toy came with a battery and it was easy to pop it in and go. This is the first toy I've had in a very long time that I can gush on about, and can't find any cons or negatives about.
The vibe itself feels great to the touch—extremely velvety and plush—and it feels great in the hand. The shape is amazing, and you can maneuver the vibe to hit all kinds of different spots for a different orgasm/spot hitter each time. There's also seven very different settings that help you maximize the most amount of orgasms each time you break it out. And, the vibe warms to your body, and isn't cold and/or jarring to the touch—it's ready for you to use it immediately and make it your own. It's easy to clean and has a black satin bag you can store it in when it's not in use (which could be never).
The motor is also super quiet so you can take it out in public and use it and maybe even go unnoticed. Another cool option is that you can remove the bullet and use it on it's own. I'm not a fan of using it as just a bullet, but more options are always nice.
It says it's waterproof on the box, but I haven't tried that out yet.
I was most surprised by the price tag—it's under $50 and even better than some toys that retail for over $100 or more. It's something that I would want to keep for myself, but it would make a great gift for a birthday or bachelorette party for one of my girlfriends. If a guy brought this home to me, I'd be happy. So if you're a guy looking for that special toy and get highly confused with all the choices, this could be the one.