Product Reviews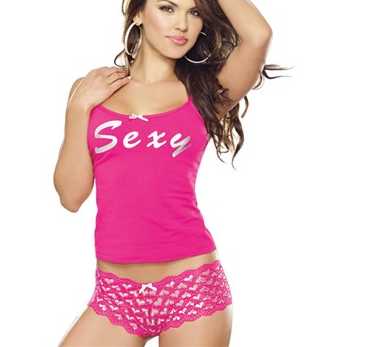 Wednesday, May 27, 2015
DREAMGIRL
Sexy Kiss Tank & Boyshorts
Being a plus-sized girl with big boobs, it's not easy to find lingerie that fits, is affordable and makes me feel sexy. This little ensemble was in one word amazing! It's stretchy (yay for spandex), super soft against my skin, makes me feel uber sexy and make my tits look out of this world.
I will admit I felt a little silly with the word "sexy" emblazoned on the front of the tank top is giant white letters, but once I slipped it on, I really felt sexy. This is great to wear to bed alone, at a lingerie party or even with your partner. The underwear slides up your ass but reveals your ass cheeks to make you feel sexy (unlike a thong).
Pink is one of my fave colors, so that made it a win too. The silver metallic accents are really nice, too. Plus, the larger sizes are under $43, which is a steal for lingerie these days.
It's a great gift for yourself, a nice present to give to your girl any day of the year and would even make a great bridal shower or bday gift for your best friend. I'm seriously happy to own something that makes me look and feel this good on the inside and out. If only I looked like the girl in the photo...