Product Reviews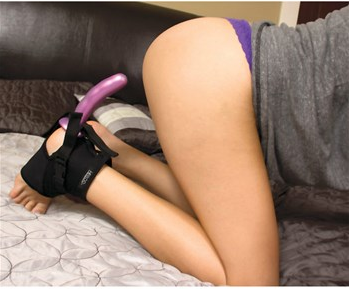 Friday, September 5, 2014
HEELDO
Strap-On Harness
or a long time, there's been a lot of hype about the Heeldo. I remember when it first came out and I thought it was kind of ridiculous, but I'll try anything once. I see my first thoughts were right.
When it arrived in the mail, I opened it up right away. And it looks just like a knee brace I wore when sprained my foot/ankle with some rings and extra straps. So much for the aesthetic of this one. And for an almost $32 price tag, I can go to Target and get the cheaper version for one-third to one half of the price.
None of the rings or extra straps and snaps that came with it seemed to hold the dildo in place. Now, I will say I got the women's version and it was a little small. It is only supposed to fit up to an American size 8. But the neoprene was stretchy, so it didn't seem to matter. Once it was on, I tried repositioning the dildo in a variety of ways and no luck. They say you can use it with vibrators and other toys, but I didn't feel like investigating that. It is awkward to use and I think they need to go back to the drawing board on this one.
Of course, it comes sans the dildo. The dildo was almost another $30, but it is a great buy. I love that it's pink and a realistic mold (although the pink color diminishes that a bit). It has a suction cup button so you can put it on the floor or affix it to a wall and get busy. I like that it's big (a whopping 8 inches) and not too hard or too soft, just perfect. Yes, the Baby Bear in The Three Bears. This dildo will go to good use, but I will have to stow it away in the toybox before I have male company over—don't want them feeling bad about themselves.
I would not recommend either of these as gifts unless it's a gag gift for a bridal shower or you have a friend who is a contortionist—I'm extremely flexible and it was just unsatisfying and awkward. And, I think most people would be scared by a dildo this big, but not me. Not sure how it would go over as a gift, but it's worth the almost $32.