Product Reviews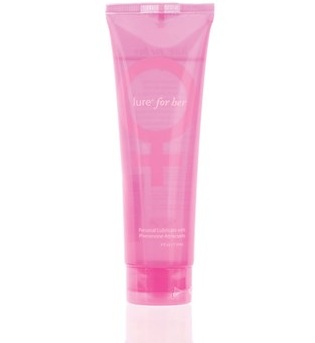 Friday, February 6, 2015
TOPCO
Lure Pheromone Lube For Her
I like to have lots of bottles of lube around the house. Sometimes, I like thick and sometimes thin. Most of my lubes are water-based, because they're the best with condoms and sex toys. Lure Lube is very sleek and scentless, plus it's stain free and not sticky or goopy. It comes in a pink package with the symbol for female on it—very girly which is a plus in my book, but could require being stored in the nightstand or toy box, since it's a little too girly/pink and can freak the guys out. The size is good (four ounces) and it has a pop-top, which is convenient for easy access and quick use.
I liked using it with toys and for sex. I don't see or feel any pheromones. Maybe I should go outside with some on and see what happens. I didn't see the difference when having sex with my man. So, I can't verify if it has pheromones and/or of they are magical.
With an under $10 price tag, this lube is good even if it didn't contain pheromones. It lasts for a while, since it's kind of concentrated, which I like because lube is expensive or can just add up if you have to buy it frequently. Get yours at http://www.adameve.com.