Product Reviews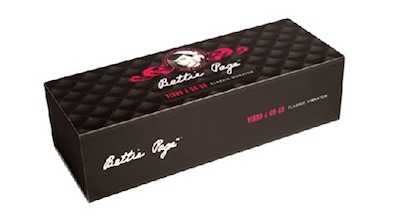 Friday, February 6, 2015
LOVEHONEY
Bettie Page Vibro-A-Go-Go Classic Silicone Vibrator Black
To say that I love Bettie Page would be an understatement…yes, I love her! So, of course, I had to check out this vibrator kit.
First of all, the packaging was top notch. The outside box looks very retro and even comes with a keepsake box with her name etched on top and is lined in velvet. The collectible keychain and card are a nice touch, but sadly very cheesy. They're so small that I thought they were for Lilliputians.
But outside of the packaging and curios, the vibrator itself rivals the Hitatchi Magic Wand. It is very powerful. And so it should be, because it takes four AAA batteries…yes, four! Thankfully, I had them on hand. I have never had a toy that takes more than two batteries. The size of the vibe is also kind of crazy—it's huge and looks like a giant black missile. You could also put it in your purse and use it for protection and no one would be the wiser. The g-spoter and powerful vibe makes for magical orgasms.
So, I will keep the vibe and box and put them in the toy box. This is definitely toy box worthy! The set is normally $60, but you can get it for $40 (or less) if it goes on sale. Get yours at http://www.adameve.com.