Product Reviews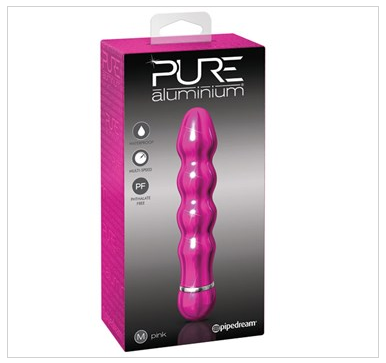 Saturday, September 20, 2014
PIPEDREAM
Pure Aluminum Medium Pink Vibrator
Another toy with brilliant packaging! The Pure Aluminum Vibe lets you view the toy through a peep window before buying. Sadly, this is one of those toys that require AAA batteries, but fortunately I had them on hand, so I didn't have to delay any joy.
The vibe itself is pink (my fave color) and is feminine yet masculine at the same time. The toy is a bit heavier than most, but it allows you a little more control when playing with it. You can heat it up or make it cold and get more sensations. There are only three speeds, so heating it up will give you more options. Also, you can insert the toy and enjoy ever inch of it (all five), as well as use it externally. The vibe can also as a body massager—it's not any less believable than a Hitachi Magic Wand. However you choose to use it, it's whisper quiet and that's quite a turn-on.
So overall this toy was not bad. It would have been nice to have more speeds. Because it's made out of metal, you can use water-based or silicone lube, which can also make the vibe feel differently, almost like a completely different toy. Being that it's high grade metal, it should last longer than the average plastic toy, so you won't feel bad about the almost $60 price tag. This might be a little heavy duty to give as a gift, but it's a good one to add to your personal arsenal.