Product Reviews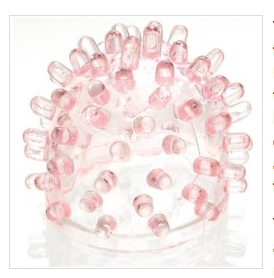 Wednesday, October 1, 2014
ADAM & EVE
Tingle Tip Wand Attachment
The Hitachi Magic Wand is already the perfect toy. Ask any porn starlet and she will say it's her fave toy. And the same would be true of this reviewer. But after awhile, you will want to branch out a bit and other toys generally just don't cut it. That's why going for an attachment for your Magic Wand could be just the ticket—the Willy Wonka Golden Ticket.
The Tangle Tip Attachment is the one accessory you definitely need to pick up. It's rubbery/stretchy and is pretty easy to add to the tip of the Magic Wand. The cool thing is that they're translucent so it makes it easy to see if it is completely on the tip correctly.
Turn the wand on and the nubs feel like heaven. It's hard to imagine and even more insane orgasm than just the wand itself, but it's true. The nub kind of evens out the harshness of the wand (which can be a bit too powerful at times, even on the lowest setting). The nubs also feel like tiny fingers or tongues, which is just unreal.
Another cool element of this attachment is the easy clean up. Just pull it off and wash it with soap and water in the sink and it's ready for another run. This is by far one of the best toys I've picked up in awhile. With an under $20 price tag, it makes your Magic Wand feel like two toys and is worth every penny. It's not a good gift unless you either know someone has a Magic Wand or you buy then the wand and the attachment. Since the wand is usually about $50, it could be a pricey gift. But if you're buying it for a girlfriend, you could definitely score some major points.