Product Reviews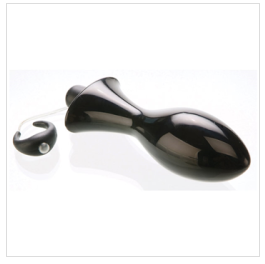 Friday, May 30, 2014
EVOLVED
Booty Bomb Anal Vibrator
With a house full of toys and vibes, somehow I've never picked up an anal vibrator until now. When I opened the box, I was quite impressed with Evolved's packaging. It's in a cute little plastic container shaped like a silo. The toy itself looks like a cartoon bomb.
The vibe takes "AAA" batteries, which fortunately I had in my arsenal. I put the batteries in and I was ready to rock. I will say I was a bit put off by the size of the bomb. The tip is small and slightly pointed but it's kind of big to be putting in your ass if you're not a porn star. And no, I couldn't get it all the way in. I like that the control is a push button on a ring of the toy and the cord was long—you can use it with ease. Because I couldn't get the bomb all the way in, the vibrations weren't too strong—like any vibe, there are a few speeds. Despite the fact that I didn't hit a homerun with this toy, I'm willing to keep trying with it, since it's aesthetically pleasing to look at and goes in and out of your butt pretty easily. It's also very easy to clean after using and it's a good thing it's black (make sure not to look too close, if you know what I mean).
It's almost $45 and it's worth it since the product is obviously well made and the packaging is really quite nice. This is a weird one to give as a bachelorette or birthday gift. If your guy or girl has always wanted anal sex with you and you don't want to give the butt up, this might be a compromise you will both love. It actually might be easier to use the toy if you have someone else at the controls putting it in your ass and pushing the button—then you can relax a bit more and enjoy the ride.