Product Reviews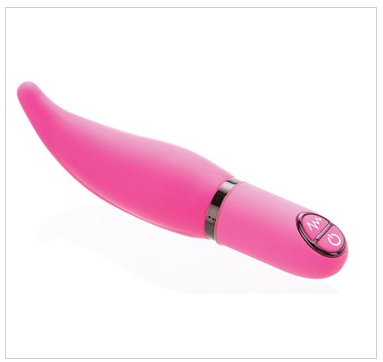 Sunday, August 10, 2014
CAL EXOTICS
Tantric Namaste Vibrator
Namaste, vibrator. I love the name of this toy. Hilarious. It's brand new and I was one of the first on my block to get one. Woo hoo!
So let's start with the pros! G-spot vibes are always one of my favorites, so the little pink massager was off to a good start. It's supposed to mock a tongue, but I have to disagree on that one. However, I do like the 10 speeds and was pretty impressed with at least four of them—plus it's super quiet (like a whisper). And, pink is my favorite color, but it also comes in red. It also takes Double "A" batteries, which earns it points for sure—and it uses one, not two, batteries. The buttons on the speeds and on/off button light up and that's cool for fun in the dark (alone or with a partner).
Cons…it's supposed to mock a tongue, but I have to disagree on that one. It's more like your typical g-spotter vibe. The girth of the massager is small and not good for insertion. Yes, it's a g-spotter vibe for use on the outside, but it's good when a toy can serve a dual purpose. And lastly, I really don't think this toy is worth an almost $40 price tag. I have others that do the same thing (and more) for less than half the price.
So to sum it up…nice design, good vibes, super quiet, the buttons light up and runs on one battery, but it's overpriced and too small for insertion. The packaging is nice, so it could make a nice gift for a bachelorette party or something like that.