Product Reviews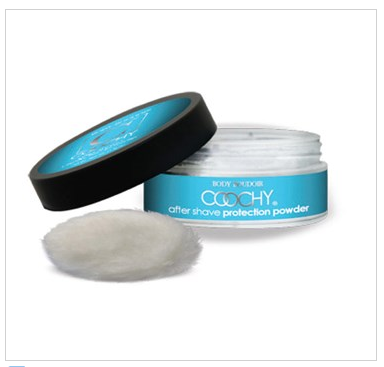 Tuesday, June 10, 2014
COOCHY
After Shave Powder
So after you've shaved with the Coochy Shave Cream, you can break out the Coochy After Shave Powder. It's light in weight and perfurmed smell and has a little puff that you use to apply the powder. The packaging is very girly and very refreshing, at the same time. Using the powder after shaving gives you peace of mind that you won't get bumps or irritation.
It is a little pricey at $13 and it's just shy of .5 of an ounce. It will last if you use it sparingly, but that's kind of hard since the powder puff is so small. It would be nice if they made it in other scents—this one is a little old lady like (although I doubt an old lady would use this product) and baby powder wrapped into one. I guess the most important part is it does the job (no bumps or irritation) and leaves you refreshed. Some of the reviews on Adam & Eve say it's no better than buying baby powder, but I disagree—the packaging is aesthetically more pleasing and it's not as potent (smellwise).
If you make a beauty basket as a bachelorette or bday gift, this would be a great item to put in it. Although, it is the type of thing you'd more likely buy for yourself than others.